Is Back Pain A Symptom Of Horseshoe Kidney
2015-08-01 01:54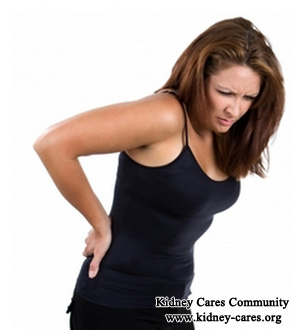 Can back pain be a symptom of horseshoe kidney? This question is frequently asked by patients with horseshoe kidney. Here I will help them find the answer.
What is horseshoe kidney?
Horseshoe kidney is the most common type of renal fusion anomaly. It consists of two distinct functioning kidneys on each side of the midline, connected at the lower poles by an isthmus of functioning renal parenchyma or fibrous tissue that crosses the midline of the body. In this disorder, kidneys fuse together to form a horseshoe-shape during the development in the womb. The fused part is the isthmus of the horseshoe kidney.
What will happen with horseshoe kidney?
Usually it is asymptomatic and in rare cases it causes abdominal pain and distention as a result of urinary obstruction, vomiting. It is a predisposing factor for formation of kidney stones, which may be the cause of back pain.
Besides, horseshoe kidney may increase the risk for:
Kidney obstruction
Abnormal placement of ureter may lead to obstruction and dilation of the kidney.
Kidney infections
This is associated with vesicoureteral reflux.
Kidney cancer
It can increase the risk of renal cancer, especially Wilm's tumor, transitional cell carcinoma, and an occasional case report of carcinoid tumor.
Despite increased risk, the overall risk is still relatively low.
How to treat back pain in horseshoe kidney?
As I have mentioned above, back pain can be a result of kidney stone. Thus, drink lots of fluids to help pass smaller kidney stones. The more hydrated you are, the more urine your body will produce. If your kidney stone is small enough, filling your body with water and other fluids can pass the stone out with your urine. Drink upwards of 10 glasses of water a day to really hydrate yourself and see if you can flush the stone out. If you are bored drinking water, add some fruit juice, like lemon, to the water to give it some flavor. Coconut water is also a good option for hydration.
However, if your kidney stone is too large, your doctor may give you Extracorporeal Shock Wave Lithotripsy to break up the kidneys. Besides, Chinese herbal medicines are also effective for large kidney stone. Which herbs are suitable for you depends on your medical condition. You can send your reports to kidneycares@hotmail.com. After analyzing your condition, I will give you proper herbs.