Treatment for Protein in Urine And Joint Pain in FSGS
2013-10-11 11:42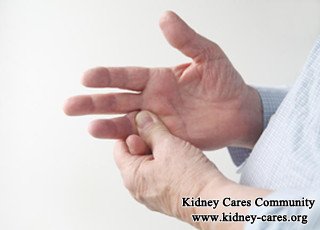 FSGS is a kidney disorder with inflammation and scarring of glomeruli which are filters in kidneys.When kidney structure is impaired,it will give rise to a host symptoms. Protein in urine and joint pain are two typical signs of FSGS.
Protein in urine in FSGS
Glomeruli are filters much live a sieve and they can filter the blood, taking out the extra water part that becomes urine and leaving the protein in the blood.In FSGS,when the glomeruli become scarred,they will fail to filter the blood and protein starts leaking into the urine instead of being retained in the blood.
Joint pain in FSGS
Hyperuricemia is one of important causes of joint pain in FSGS. Uric acid is the byproduct of purine and is normally removed by kidneys. However, when kidneys are impaired, high levels of uric acid will build up in different body parts. When extra uric acids deposit in joints, it can cause inflammation in joints, thus leading to joint pain.
Treatment for protein in urine and joint pain in FSGS
As for protein in urine in FSGS,a low-protein diet is an important treatment part.Prednisone can reduce the permeability of renal capillary to reduce the leakage of protein from body.In addition, immunosuppressive agents are commonly used to suppress the inflammatory response in kidneys.
To treat joint pain in FSGS, the best way is to suppress the inflammation in joints and reduce the deposits of uric acid in body.A diet low in purine should be followed.Some medications are used to treat the inflammation and increase the excretion of uric acid from body. These treatments can relieve joint pain in FSGS.
As mentioned above, joint pain and protein in urine result from kidney damage in FSGS. To treat them two completely and fundamentally, a treatment should be used to restore the impaired kidney structure and enhance renal function. Micro-Chinese Medicines Osmotherapy is an effective treatment.