Why Do FSGS Patients Have A Big Stomach
2017-02-04 03:04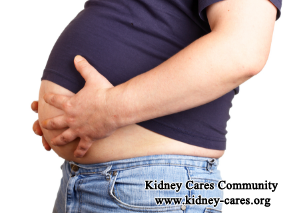 "Why do I have a big stomach with FSGS?". This is a question that a patient consults our online doctor. Swelling or edema is a common complication in FSGS patients. What is the cause and treatment? Read this article and you will find the answer.
FSGS (Focal Segmental Glomerulonephritis) is a disease in which scar tissue develops on the parts of the kidneys that filter wastes and excess fluid from the blood. When this function is affected, excess fluid will accumulate in your body, causing swelling. The swelling can occur in your body parts like your legs, ankles, stomach and around your eyes. This is the reason why some patients have big stomach in FSGS.
The treatment for big stomach includes:
1. Diuretics
These medications can help your body get rid of excess fluid and swelling. They can also lower your blood pressure.
2. Corticosteroids and Immunosuppressive drugs
These medications can calm your immune system and stop it from attacking your glomeruli.
3. Diet change
High consumption of sodium may cause water retention inside your body. Thus, you should limit your salt intake. Some high sodium foods to avoid for edema are commercial pancakes and waffles, ready-to-eat bran and oat cereals, instant hot cereals, salty snack crackers and some canned vegetables, processed meats, etc. Following a healthy diet and avoiding certain foods that contain high amounts of sodium may help treat edema.
4. Micro-Chinese Medicine Osmotherapy
Apart from the above treatment options, you can also try Micro-Chinese Medicine Osmotherapy which is based on Chinese medicines but used externally. Chinese medicines are first micronized into powder and then packaged into two medicated bags. Patients just need to lie on these two medicated bags for treatment. Foreign patients describe it as massage, very comfortable. Chinese medicines can arrive at kidney lesion directly through skin permeation with the help of osmosis machine. Micro-Chinese Medicine Osmotherapy helps repair injured glomeruli and improve renal function gradually with the functions of dilating blood vessels, improving blood circulation, preventing inflammation and coagulation, degrading extracellular matrix and providing nutrients. When renal function is improved, excess fluid can be discharged from your body and then swelling will disappear naturally and radically.
You can choose proper treatment for your specific illness condition. If you want to avoid relapse of FSGS, Micro-Chinese Medicine Osmotherapy is better for you. Our contact information is kidneycares@hotmail.com and phone 008618330110929.
Our Treatment Effect
Swelling is an obvious sign of Nephrotic Syndrome
Move the mouse to enlarge the picture
Look, this patient has severe leg swelling which has made her feel pain and can not get out of the bed. In order to seek better treatment, she came to our hospital for Chinese medicine treatments. 30kg of fluid was removed from her body in less than a month. Her leg swelling disappeared completely. Now you can see her long legs again.
Proteinuria can also be seen in kidney patients
Move the mouse to enlarge the picture
Look, this patient has severe proteinuria when he just came to our hospital. With our Chinese medicine treatments, his condition was better and better. Bubbles in urine gradually reduced and finally disappeared in 10 days of treatment.
New Zealand Patient Second Visit to Our Hospital for TCM