Will Third Stage Of FSGS Make Me Tired
2015-10-07 07:56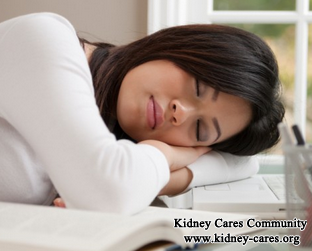 I have third stage of FSGS. Will this make me more tired? This is a question the patient consulted our online doctor. Can FSGS make you more tired?
FSGS is an illness condition in which less than half of glomerulus are damaged. Without proper treatment, more and more glomerulus will be damaged and kidney failure will come at last.
1. What causes tiredness in FSGS?
Anemia
People with kidney disease are prone to anemia because kidneys play a role in creating healthy red blood cells. When kidneys are functioning properly, they produce a hormone called erythropoietin (EPO). EPO is responsible for producing red blood cells. Once produced by the kidneys, erythropoietin stimulates the bone marrow to make red blood cells. When kidneys are diseased or damaged, they do not make enough EPO. As a result, the bone marrow makes fewer red blood cells, causing anemia. The signs and symptoms of anemia in someone with kidney disease include fatigue or feeling tired.
Malnutrition
Malnutrition is another cause of tiredness in FSGS. Due to diet limitation, patients are susceptible to develop malnutrition.
2. How to deal with tiredness in FSGS?
Iron supplements and EPO
Many people with kidney disease need iron supplement and EPO to increase red blood cell count to a level that can reduce the need for red blood cell transfusions. In some people, iron supplements and EPO will improve the symptoms of anemia.
Vitamin B12 and folic acid supplements
You may be suggested with vitamin B12 and folic acid. Using vitamin supplements can treat low levels of vitamin B12 or folic acid and help treat anemia.
Natural Chinese medicines
The radical way for anemia in kidney disease should start from repairing injured kidneys and improving kidney function. In our hospital, we have characteristic Chinese medicine treatments like Micro-Chinese Medicine Osmotherapy, Medicated Foot Bath, Medicinal Soup and Mai Kang Mixture, etc. According to your illness condition, suitable treatments will be chosen. You may need one or more of them. Through dilating blood vessels, preventing inflammation and coagulation, degrading extracellular matrix and providing necessary nutrients, impaired kidney tissues can be repaired to some extent and then kidney function can be improved. With improved kidney function, it can produce more red blood cells so as to alleviate anemia from the root.
If you have more question, just feel free to leave us a message below or consult our online doctor directly.