Does FSGS Cause Proteinuria
2015-07-19 03:47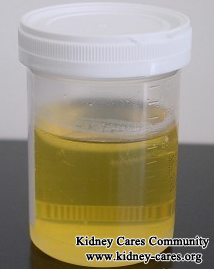 Focal Segmental Glomerulosclerosis (FSGS) refers to scar tissues that form in parts of the filtering units. In the early stage, you may have no symptoms of FSGS. As the disease progresses, signs of nephrotic syndrome may appear. Nephrotic syndrome is a disease that causes your body to excrete too much protein in the urine. FSGS can cause proteinurina.
How does FSGS cause proteinuria?
Healthy kidneys can remove wastes from the body and preserve useful substances in body. Proteins are large molecular substances that cannot pass through filters. However, in FSGS, the filters can be scarred and cannot work well enough. Under such a condition, proteins will pass through filters and end up in urine. That is the reason why proteinuria occurs.
What is the treatment for proteinuria in FSGS?
The above has stated that proteinuria is due to kidney damage. Thus, if the damaged nephrons are repaired, proteinuria will be alleviated or disappear.
Blood Pollution Therapy is strongly recommended. In this therapy, western medicines and technologies will be used to control patients' condition. Blood Purification is one aspect of Blood Pollution Therapy because it can remove metabolic wastes and inflammatory factors, which supplies a better internal circumstance for repairing injured kidney tissues.
Then, Chinese medicines are used to repair kidney damage and improve kidney function. Chinese medicines can prevent inflammation and coagulation, improve blood circulation, degrade extracellular matrix, remove blood stasis and provide necessary nutrients for repairing kidney damage.
Western medicine can not improve patient's body function and Chinese medicines take effect slowly. Their combination is perfect. Proteinuria will be reduced if their kidney damage is repaired.
If you have any question or need any help, you can leave a message below or send an email to kidneycares@hotmail.com. We will try our best to help you.
Our Treatment Effect
Swelling is an obvious sign of Nephrotic Syndrome
Move the mouse to enlarge the picture
Look, this patient has severe leg swelling which has made her feel pain and can not get out of the bed. In order to seek better treatment, she came to our hospital for Chinese medicine treatments. 30kg of fluid was removed from her body in less than a month. Her leg swelling disappeared completely. Now you can see her long legs again.
Proteinuria can also be seen in kidney patients
Move the mouse to enlarge the picture
Look, this patient has severe proteinuria when he just came to our hospital. With our Chinese medicine treatments, his condition was better and better. Bubbles in urine gradually reduced and finally disappeared in 10 days of treatment.
New Zealand Patient Second Visit to Our Hospital for TCM