Is There Anything I Can Do for Edema Associated with FSGS
2014-07-31 02:07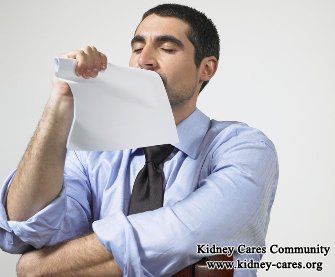 Edema is an early symptom of FSGS. It may first appear around the eyelid. In severe case, edema may occur in ankles, legs, feet and even the whole body. Is there anything I can do for edema associated with FSGS?
What causes edema for FSGS patients?
There are two causes of edema for FSGS patients. On one hand, edema is associated with the massive proteinuria. The damaged kidneys can not retain the protein in the body, as a result, protein leaks. Then the plasma colloid osmotic pressure declines and the fluid begins to flow to the tissue space, resulting in edema. On the other hand, edema may be related with kidney function impairment. The damaged kidneys can not filter the excess fluid from the body, leading to edema.
How to ease edema for FSGS patients?
If you have edema with FSGS, you had better stay in bed and reduce strenuous activity. You should also pay attention to your diet. Because too much protein can worsen proteinuria, it is better for you to have a low but high quality protein diet. Besides, sodium intake can retain more water in the body, so you had better limit the intake of sodium as well. In severe cases, diuretics are prescribed to help your body discharge the excess fluid.
However, the radical solution is still to repair the damaged kidneys and improve kidney function. To set a good blood environment for kidney self-healing, medicated bath, circle therapy and enema therapy are often used to draw out toxins from body and improve blood circulation. Micro-Chinese Medicine Osmotherapy is also often used to dilate blood vessels, inhibit kidney inflammation, block blood clotting and stop kidney fibrosis. With systemic treatment, there will be a great improvement in your kidneys and whole body. And not only is edema in remission, but also you can live a normal life without worrying about kidney failure.
Space limited, we just have a brief introduction to our treatment. If you would like more, please contact online doctor.