What Should I Do with Focal Segmental Glomerulosclerosis and Pleural Effusion
2014-07-13 08:03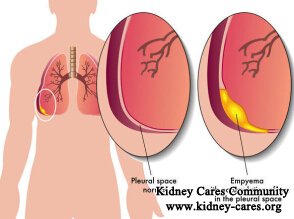 Focal Segmental Glomerulosclerosis (FSGS) is a cause of Nephrotic Syndrome. It means some of the glomeruli are damaged. As a result, many symptoms occur, such as severe edema, proteinuria, hyperlipemia and hypoproteinemia. What should I do with FSGS and pleural effusion?
What causes pleural effusion for FSGS patients?
Pleural effusion means there are excess fluid building up in the lung. And Nephrotic Syndrome is common cause of pleural effusion. The main reason of edema is associated with the massive proteinuria. Because too much protein splits, the plasma colloid osmotic pressure reduces so that the fluid flows into the tissue space. Besides, when kidney function impairs, it can not balance the fluid in the body so as to cause edema. When the fluid accumulate in the lung, pleural effusion occurs.
How to ease pleural effusion for FSGS patients?
Pleural effusion should be eased as early as possible, or it may threaten your life. Treatment options for pleural effusion includes fluid removal, symptom relief, and treating the underlying cause. The following tips may be helpful for you.
-Limit the intake of protein to reduce proteinuria.
-Restrict the intake of sodium and water.
-Diuretics to help you remove the excess fluid from your body.
-Steroids to alleviate proteinuria.
-Improve kidney function
The basic solution for pleural effusion is to improve kidney function. Micro-Chinese Medicine Osmotherapy can dilate blood vessels to improve ischemia and anoxia in the kidneys. It can also inhibit kidney inflammation to prevent further damage. Besides, it can block blood clotting to set up a good blood environment for kidney self-healing as well as degrade extracellular matrix to stop kidney fibrosis. With treatment, your damaged kidneys can repair themselves. For more detailed information, please leave a message below or send emails to kidneycares@hotmail.com.