Prognosis of FSGS in Children
2013-12-23 11:48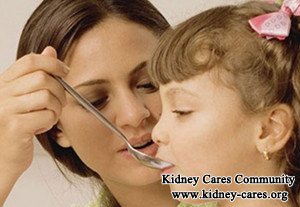 Prognosis refers to the prospect of disease.When your child is diagnosed with FSGS,your major concern is that what the disease will develop.This article will introduce the prognosis of FSGS in children and tips how to improve the prognosis.
How is the prognosis of FSGS in children?
The prognosis of FSGS in children varies from individual to individual as it is affected by variables.Some patients may have a complete remission without relapses and further progression. However,in many cases,the diseased children may develop Kidney Failure and have to sustain their life with Dialysis and other replacement treatments.
How to improve the prognosis of FSGS in children?
Prevent FSGS relapses
Frequent relapses of nephrotic syndrome play a vital role in affecting the prognosis of FSGS in children.Therefore,it is important to avoid the triggers of the condition.You should never cut down the drug dosage without a doctor's permission. In addition, infection,colds may also trigger the relapse of FSGS so should also be prevented.
Control FSGS complications
Most of renal patients do not die of kidney disease itself,but the associated complications before kidneys fail.The complications of FSGS like proteinuria,high blood pressure, infection etc can worsen the prognosis of FSGS in children significantly.
Treatment
The conservative treatment for FSGS in children only can relieve the symptoms of the condition and can slow down the condition progression to some extent.
However,to improve the prognosis of FSGS in children, immunotherapy will be applied to treat the disease.This therapy has treated a number of diseases and aliments by using the body's immune system.In treating nephrotic syndrome in children,immunotherapy can correct the immune dysfunction and help the body rebuild normal immune system. If the underlying cause is controlled, FSGS will stop progressing completely.