Is It Safe For A FSGS Patient To Drink A Glass Of Wine
2015-06-19 01:59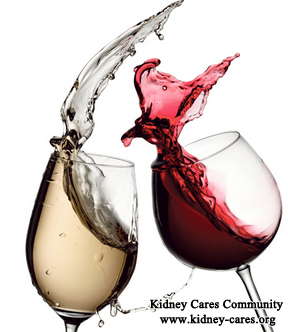 Is it safe for a Focal Segmental Glomerulonephritis (FSGS) patient to drink a glass of wine? Researchers found that moderate wine drinking is ok for those who already have kidney disease.
If blood sugar level in FSGS patients is kept under control, it may be safe for them to drink wine. They can drink alcohol with food or at mealtime. Alcohol on an empty stomach can cause blood sugar levels to drop in those FSGS patients with diabetes.
Besides, moderate wine drinking might help the heart. Those with kidney disease who drink wine moderately had a 29 percent lower risk of cardiovascular events than those who drank no wine.
Drinking moderate amounts is linked with lower levels of protein in the urine. In those who have kidney disease, higher protein levels in the urine are linked with an increased risk of progression of kidney disease.
In summary, moderate alcohol consumption is key. Moderate wine consumption may benefits kidneys. Excess wine consumption has definitely been shown to have negative effects on kidney function. Alcohol can also aggravate hypertension, a major cause of chronic kidney disease, so those with poorly controlled hypertension should limit the amount of alcohol they consume. Besides, it is also important to consider the nutritional contents of the various alcoholic drinks to be sure they comply with the prescribed renal diet.
In addition to wine, if you still cannot make sure if you can eat a certain food, you can leave us a message to kidneycares@hotmail.com or leave a message below. Our renal experts will send you a diet plan according to your own medical condition.
Our Treatment Effect
Swelling is an obvious sign of Nephrotic Syndrome
Move the mouse to enlarge the picture
Look, this patient has severe leg swelling which has made her feel pain and can not get out of the bed. In order to seek better treatment, she came to our hospital for Chinese medicine treatments. 30kg of fluid was removed from her body in less than a month. Her leg swelling disappeared completely. Now you can see her long legs again.
Proteinuria can also be seen in kidney patients
Move the mouse to enlarge the picture
Look, this patient has severe proteinuria when he just came to our hospital. With our Chinese medicine treatments, his condition was better and better. Bubbles in urine gradually reduced and finally disappeared in 10 days of treatment.
New Zealand Patient Second Visit to Our Hospital for TCM