What Foods To Avoid If I Have FSGS
2014-05-17 09:23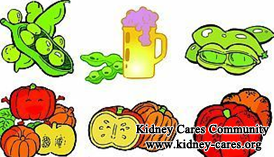 Patients with FSGS should focus on diet in daily life, which can also help them alleviate disease conditions. To help them solve problems, here we will introduce what food should be avoided for patients with FSGS. Please see the following:
1. They should avoid fast food or some food in restaurant.
Because fast food or restaurant food contain much salt or fat. In this case, FSGS can be aggravated, and kidney function can be worse. Thus, it is highly recommended that patients with FSGS should cook food by themselves in daily life, and they can put less salt or sodium in food.
In addition, low protein must be eaten for patients with FSGS. But they can have some high quality protein food like fish, lean meat, egg white, and milk. And fat food can do harm to high blood pressure and cardiovascular problems. Thus, patients with kidney failure should avoid fat food to avoid fat.
2. Scanned and highly processed food are also needed to avoid in daily life.
This is because these food can produce much wastes and byproducts, which can make kidney bear much pressure or burdens. In this way, FSGS can be worsened. Thus, these food should be avoided.
3. They should abandon bad habits in daily life.
Alcohol and smoking should be limited or avoided for patients with FSGS, because it is not beneficial for patients with FSGS.
In addition, patients with FSGS should not drink much coffee and tea in daily life. Because much caffeine is contained in coffee or tea, which can do harm to kidney function.
The above food should be taken notice of in daily life for patients with FSGS. If you want to know more information or have any question, please be very free to contact any time. We are very pleased that we can help you solve problems.