What Foods Are Prohibited For FSGS Kidney Patients
2014-03-27 15:23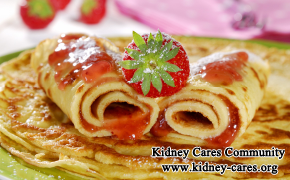 In order not to worsen patients' illness conditions with Focal Segmental Glomerular Sclerosis(FSGS), patients should prohibit some foods. What kinds of foods should be avoided by FSGS patients? And here we would like to give some useful suggestions as follows.
1. Avoid high salt foods
If you eat some high foods, you will feel thirsty and then you need to drink much water. However, once kidneys are damaged, they will lose the ability to filter excess water out of the body. In case of taking much water, you are at a higher risk for developing water retention and it will aggravate the edema.
2. Stay away from high quantity foods
Too much protein intake will increase the waste product urea in your blood and burden your kidneys. Thereby, you should prohibit these foods like milk, cheese, yogurt, fish, meat and eggs. While lean meat, egg white, milk and fish as well as other high quality foods are ok. Beans and bean products should be prohibited due to inferior protein content.
3. Avoid fatty and greasy foods
If patients with FSGS take too much fatty and greasy foods, it can increase the risk of FSGS complications, such as high cholesterol level,high blood pressure and so on. The complications may worsen your medical conditions and make you die faster. In this case, fatty and greasy foods should be prohibited by FSGS patients.
4. Prohibit high phosphorus and potassium foods
High phosphorus foods like animal liver, yolk, tea, peanuts, walnuts and sesame, etc should not be eaten if your FSGS has progressed to renal failure. Also potassium rich foods including bananas, date, potato, spinach, mushroom, tomatoes and apricot and so on need to be avoided.
Besides, alcohol, coffee and caffeine-containing foods as well snoking should all be prohibited by FSGS patients. Due to different illness conditions, the above information may not suit for every FSGS patients. Therefore, if you want to know exact food lists, you can describe your condition to our online experts or send your medical report to kidneycares@hotmail.com and we will work out a diet plan for you according to your illness conditions.