How Is FSGS Diagnosed
2012-09-24 15:44
Different from the diagnosis of other kidney problem like Diabetic Nephropathy, Hypertensive Nephropathy and Polycystic Kidney Disease, diagnosis of FSGS (Focal Segmental Glomerulosclerosis) needs the help of renal biopsy, the gold standard of diagnosing pathological changes of kidney.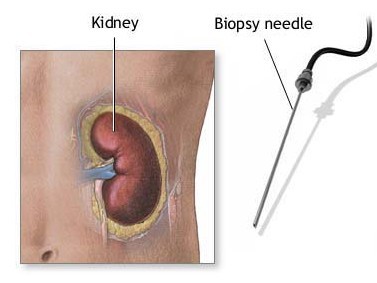 Most of the kidney disease is diagnosed with routine blood test, routine urine test and kidney function and so on. But Focal Segmental Glomerulosclerosis is describing a medical condition, not simply referring to a kidney disease. So its diagnosis is a little different. While diagnosing FSGS with renal biopsy, a sample of kidney tissue is obtained by a long and thin needle and then this small sample is analysed by doctors to know how patient's kidney is damaged. Renal biopsy is helpful for learning how kidney is damaged, but meanwhile it is extremely painful and harmful for kidney, so no patients want to do renal biopsy.
We know for people with serious kidney disease, most of their kidney tissues have been damaged and there is little healthy renal tissue. Under such a condition, renal biopsy usually is not suggested, because renal biopsy itself can cause kidney damages. While a sample of kidney tissue is taken out, some healthy renal tissues are taken out at the same time and this can cause deterioration of kidney function. Therefore, if possible, people with serious kidney disease should avoid renal biopsy.
In Focal Segmental Glomerulosclerosis, Word "focal" means some of the glomeruli are involved, "segmental" means only part of each glomerulus is involved and word "glomerulosclerosis" refers to scarring of the glomerulus. The whole term means some glomeruli are damaged partly, not completely. Therefore, anyone with this kind of pathological changes can be diagnosed with FSGS.
FSGS is a leading cause of Nephrotic Syndrome in adult and major cause of kidney failure in children, so treating FSGS actively is very important for patients to have a high quality life.
Tag: FSGS Diagnosis
previous:none
Our Treatment Effect
Swelling is an obvious sign of Nephrotic Syndrome
Move the mouse to enlarge the picture
Look, this patient has severe leg swelling which has made her feel pain and can not get out of the bed. In order to seek better treatment, she came to our hospital for Chinese medicine treatments. 30kg of fluid was removed from her body in less than a month. Her leg swelling disappeared completely. Now you can see her long legs again.
Proteinuria can also be seen in kidney patients
Move the mouse to enlarge the picture
Look, this patient has severe proteinuria when he just came to our hospital. With our Chinese medicine treatments, his condition was better and better. Bubbles in urine gradually reduced and finally disappeared in 10 days of treatment.
New Zealand Patient Second Visit to Our Hospital for TCM