Will Chamomile Cause Kidney Damage
2014-04-23 02:51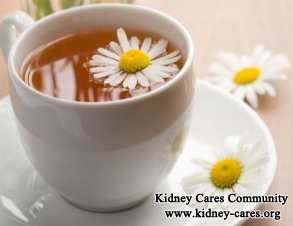 Kidneys are important organs in human body. And in our daily life, everything we consume should be harmless to our kidneys. As for chamomile, it is typically consumed in the form of chamomile tea. Even so, it has become such a popular herb that it can be found in capsules, tablets and creams. If person with kidney disease consume chamomile tea, does chamomile do damages on kidneys?
Before going to the topic, let's first see the functions of chamomiles.
1. Chamomile helps with diabetes.
Some studies seem to indicate that certain complications of diabetes such as loss of vision, nerve and kidney damage can be ameliorated by consuming chamomile. People with diabetes show significant reduction in the amount of blood glucose levels as well as tow enzymes that cause nerve damages.
2. Chamomile helps boost immune system.
Chamomile has an anti-microbial agent that helps boost the immune system. It can inhibit harmful bacterias.
3. Chamomile is good for alleviating muscle cramps.
Drinking chamomile tea was associated with an increase in urinary levels of glycine, an amino acid that has been shown to relieve muscle cramps.
4. Normalizing kidney function
Chamomile volatile oil used on impaired kidney can normalize kidney function.
Besides, chamomile has been shown to decrease inflammation surrounding the kidneys. Overall speaking, chamomile will not cause kidney damage. Chamomile contains various bioactive phytochemicals that provide therapeutic effects. Chamomile can help in improving cardiovascular conditions, stimulate immune system and provide some protection against cancer.
Although chamomile has benefits for kidney damage, it does not mean you can drink chamomile tea too much. Overtaking it will cause side effects like bleeding and an allergic reaction in some people. It may also interact with some medicines, so a physician should be consulted especially when consuming large amounts of chamomile.