Can Blueberries Be Good for Kidney Disease Patients
2013-07-09 10:27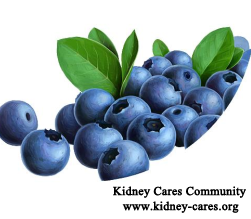 A handful of blueberries is a good choice of snacks, so many people with kidney disease are fans of enjoying blueberries. However, can blueberries be good for kidney disease patients?
It seems that blueberries can bring few benefits for people with kidney disease, because 1/2 cup serving of this snack only contains 7.2mg of vitamin C, a scant amount of most B vitamins and 40 IU of vitamin A. How about the truth?
I believe the answer won't disappoint you. Even though blueberries are low in vitamins, they still have many other nutritions. First of all, no matter what kidney disease you have, you can consume blueberries as a natural antioxidant. This is because blueberries contain rich quercetin, anthocyanin and other flavonoid compounds, all of which have anti-oxidant activity. With these substances, blueberries can help prevent further kidney damage and improve kidney function.
For people on dialysis or kidney failure, potassium or phosphorus may be something you want to steer clear of. When kidneys can't do their job optimally, these two substances may build up in the body easily, resulting in high potassium or phosphorus level. Then, lowering high potassium or phosphorus level must be your issue.
Generally, most nephrologists recommend these patients limit their potassium intake to less than 2,000 to 3,000mg per day, and dietary phosphorus is lowered to 800 to1,000 mg/day. Blueberries are low both in potassium and phosphorus, so they are good for people with high potassium or phosphorus level.
Blueberries are good to improve kidney function and can be added to low-potassium or low-phosphorus renal diet. Therefore, people with kidney disease can consume this fruit, unless they are eating dairy products or have some symptoms such as diarrhea. If you are suffering from symptoms due to kidney disease but want to eat blueberries, you can consult the online doctor firstly before eating it.
Get free online analysis for your illness condition here. Choose any of the following tools to start instant communication with our experts.
Leave Message
Leave your problem to us, we are here to help you with free charge!