Is Pear Good for Kidney Disease Patients
2013-07-09 10:26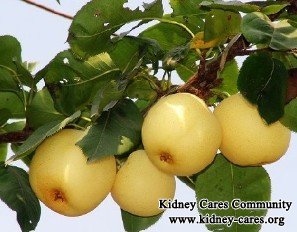 Just like apple and banana, pear is also a common fruit. Faced with the temptation of the pear's good taste, many people want to ask " is pear good for kidney disease patients". We know to judge whether some patients can consume some certain fruit is decided by this fruit's own nutrition and health benefits. As for pear, you can find the answer from the following content.
Boost immune system: The anti-oxidant nutritions in pear such as vitamin C and copper that are critical to build up the immune system. For example, drinking a big glass of pear juice is able to help you fight against the coming cold and bring a fever down quickly.
Lower high cholesterol: High cholesterol level in the body is a common symptom in kidney disease. If left uncontrolled, it can lead to many severe complications. Fiber in your diet is important for eliminating excess cholesterol through the digestive tract and providing bulk in foods that satisfies hunger and discourages excessive eating and snacking. According to the research, the fiber in one pear is 5.5g. Therefore, if your cholesterol is higher than the normal, you can eat some pears to improve your overall health.
Lower high blood pressure: High blood pressure is a big risk for kidney disease patients. If left controlled, it can cause further kidney damage and worsen patients' condition. Pears have anti-oxidant and anti-carcinogen glutathione which can help prevent high blood pressure and stroke.
Additionally, pear also has many other healthy benefits such as prevent osteoporosis, treat shortness of breath and so on. However, it doesn't mean all people with kidney disease can eat pear, because it is also rich in potassium, phosphorus and sugar. Therefore, people who have diabetes, high potassium level or high phosphorus level should consume it carefully. To guarantee your health, you are recommended to consult the online doctor firstly before eating pear or other fruit.
Get free online analysis for your illness condition here. Choose any of the following tools to start instant communication with our experts.
Leave Message
Leave your problem to us, we are here to help you with free charge!