Can People with Kidney Disease Eat Cheese
2013-04-10 11:58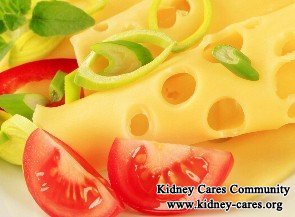 Can people with kidney disease eat cheese? Since people with kidney disease are always recommended to pay attention to what they eat, they had better make clear whether they can eat it before they decide to eat a kind of food that isn't in their food list. Today, I would like to talk about cheese for people with kidney disease.
Cheese is made by curdling milk and draining the whey, while it still retains enough moisture to make it soft and spreadable. Therefore, cheese contains a variety of nutritions such as protein, fat, calcium, sodium, phosphorus, potassium, etc. For people with kidney disease, part or nearly all of kidney function has lost so that their kidney can't do its job optimally. Then, high blood pressure, proteinuria and many other symptoms occur easily. If left uncontrolled, they can cause further kidney damage.
Because high-sodium foods can raise patients' blood pressure and aggravate their swelling, people with kidney problems should avoid cheese especially blue cheese, feta cheese and processed cheeses. Besides cheese, many other foods are also very salty that are not suitable for people with kidney disease. Knowing them clearly is able to help these people arrange a healthy diet plan.
Foods kidney disease patients should avoid: salt-cured meats, bacon, sausage, ham, dried beef, corned beef, hamburger, plucks, salted, canned, or processed meats, fish, and sardines, salted nuts and seeds, etc.
As we know low salt is only one requirement in this healthy diet. Low protein, correct amount of water and high vitamin should also be added in their diet. In addition, some other suggestions are also needed according to patients' specific condition.
Now, we have known the answer of the question-can people with kidney disease eat cheese. If you haven't made a diet plan that is suitable for yourself, you can ask help from the kidney experts online.
Get free online analysis for your illness condition here. Choose any of the following tools to start instant communication with our experts.
Leave Message
Leave your problem to us, we are here to help you with free charge!