What Causes Sudden Blood Pressure Drop During Dialysis
2017-10-28 10:25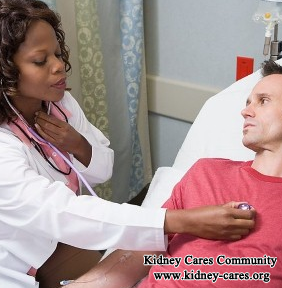 A sudden drop in blood pressure while undergoing dialysis has long vexed many kidney patients. Side effects associated with this situation over the long term range from stroke to seizure to heart damage to death. Thus, it is vital to know the cause of low blood pressure in dialysis and take timely treatment.
First, what causes sudden blood pressure drop during dialysis?
Removing water can lower your blood pressure at dialysis. Kidneys control how much water and salt you retain or lose as urine. When kidneys are damaged, this balance will be disordered. Water often builds up in your body, causing swelling. In this condition, dialysis is required to remove much fluid from your body. During dialysis, pressure forces fluid out of your body, into the dialysate, and down the drain. Some water from other compartments can move into your bloodstream so it can be removed. In 3 or 4 hours of a dialysis session, only so much water is in your blood or has time to move there. The machine is set to a fluid goal, that is dry weight. The dialysis machine keeps pushing, even if the water is not in your blood. This is why you feel awful. If your blood becomes too dry, low blood pressure will occur.
Second, what is the treatment for low blood pressure during dialysis?
Turning down the rate of ultrafiltration near the end of treatment can help prevent low blood pressure. With ultrafiltration modeling, the machine can be set to remove more fluid at the start of a treatment and less at the end. However, if you take less fluid off, you still have extra fluid in your body.
This can only be a temporary solution for low blood pressure. If you want to treat low blood pressure and avoid side effects from dialysis, you should repair your injured kidney tissues and improve your own renal function. Here we recommend Toxin-Removing Treatment which is a series of Chinese medicine treatments like Micro-Chinese Medicine Osmotherapy, Medicated Bath, Medicated Foot Bath, Medicinal Soup, Moxibustion Therapy and Steaming Therapy, etc. Our therapies can improve your own renal function. When your renal function is improved, you can reduce or even avoid dialysis. In this way, complications including low blood pressure, swelling, infection and muscle cramps can all be relieved radically.
If you have any question, you can leave a message below or consult our online doctor directly.