Can I Eat Grape Fruit On Dialysis
2016-11-19 09:01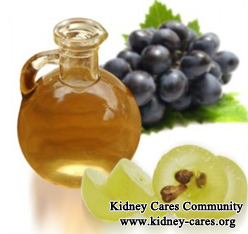 Can I eat grape fruits on dialysis? This is a question consulted by one of our kidney patients. He has been on dialysis for about 3 months. He wants to know if he can eat grape fruits with dialysis. Follow us to read through the article and you will fine the answer.
Consuming fruits has long been associated with a reduced risk of many adverse health conditions. Grape fruits have the following medical properties:
1. Blood pressure and heart health
Kidney patients tend to experience high blood pressure and heart problem. In particular, heart problem is the first leading cause of death among dialysis patients. Consuming grape fruits can help to maintain a healthy heart because grape fruit contains powerful nutrients such as fiber, potassium, lycopene, vitamin C and choline. Besides, potassium in grape fruits is associated with a reduced risk of stroke, protection against loss of muscle mass, preservation of bone mineral density and reduction in the formation of kidney stones. From this aspect, grape fruits are good for dialysis patients. However, not everyone can eat it. Patients with elevated potassium in blood are not good to eat grape fruits, otherwise, hyperlipidemia will be aggravated. This can make patients die. It is very dangerous for patients to consume high potassium food if there is already rising potassium level in blood.
2. Prevent constipation
Constipation is often to be seen in dialysis patients. To relieve constipation, patients can eat some high fiber fruits or vegetables. Grapefruits with water and fiber content, helps prevent constipation and promote regularity for a healthy digestive tract. However, patients with edema should pay attention to the amount of grapefruit so as not to worsen their edema.
In general, dialysis patients can eat grape fruits. Apart from consuming some healthy fruits, patients also need to take medical treatment. Nowadays, the effective treatment for kidney disease is to repair injured kidney tissues and improve renal function. Here we recommend a series of Chinese medicine therapies such as Medicated Bath, Medicated Foot Bath, Mai Kang Mixture, Moxibustion Therapy, Micro-Chinese Medicine Osmotherapy and Steaming Therapy, etc. If you want detailed information, you can leave a message below or consult our online doctor directly.