Treatment of Pleural Effusion in Dialysis Patients
2016-08-08 08:50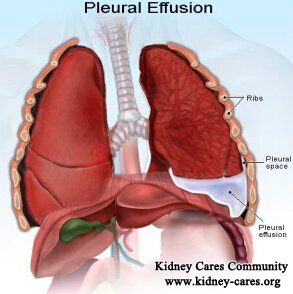 Pleural effusion is a common complication of dialysis. It can severely affect your living quality and life expectancy. Therefore, you should take treatment as early as possible to prevent and treat pleural effusion.
-Adequate dialysis
The main reason of pleural effusion in dialysis is inadequate dialysis, so to eliminate pleural effusion, you should have an adequate dialysis, for example, to increase dialysis times, avoid over increase of weight during two dialysis sessions, decrease dry weight, etc. If you have been fed up with dialysis, you can try Chinese medicine.
In Chinese medicine, there is medicated foot bath, medicated full bath, enema therapy, steam therapy, circle therapy, acupuncture, moxibustion, etc. Some of them can help expel waste products from blood. Some can help draw toxins out of the renal cells. Some can speed up blood circulation and remove stasis to improve blood circulation so that oxygen can be transported into the damaged kidneys to improve ischemia and anoxia; nutrients and active ingredients of medicines can go into damaged kidneys to speed up kidney recovery. Some can inhibit kidney inflammation. Some can stop kidney fibrosis. All in all, those therapies can set up a good blood environment for the damaged kidneys to heal themselves gradually. With the improvement of kidney function, its associated symptoms will be under controlled. And it is also possible for you to reduce dialysis times or even get rid of dialysis.
-Other adjustment treatment
In some cases, you should do thoracentesis to drain excessive fluid from chest, or infuse albumin into body. If you have lung infections, you should take anti-infection treatment first. In the daily, you should limit salt intake and water intake to reduce water retention in body. In addition, you should take treatment to improve anemia to prevent heart failure, which is a common cause of pleural effusion as well.
With the above treatment, pleural effusion will fade away gradually. If you would like to know more information on treatment of pleural effusion in dialysis or if you want to get rid of dialysis, please leave a message below or send emails to kidneycares@hotmail.com. Later our nephrologist on duty will contact you.