Skin Itching in Dialysis Patients: What Should You Do
2016-05-03 07:14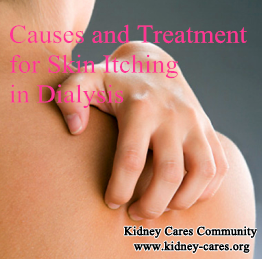 Dialysis is a most common treatment for kidney failure patients when they develop into end stage. With the treatment, patients can get some severe symptoms, and skin itching is the common and difficult to tolerate one. About 60% -90% dialysis patients suffer from skin itching, and the symptoms gradually worsened, then patients feel anxiety all day, which affect their life quality severely. Then how to deal with the skin itching in dialysis and improve the life quality for dialysis patients? Read on, you can get solutions in kidney-cares community.
1. Causes of skin itching: electrolyte metabolism disorder during dialysis
In renal failure, kidneys will feel to discharge the phosphorus out, and the repeatedly elevated phosphorus levels in blood can cause reduce calcium level, thus stimulating PTH (parathyroid hormone) secretion and lead to secondary hyperparathyroidism. Studies have shown that secondary hyperparathyroidism can lead to severe skin itching.
Treatment:
- limit the phosphorus intake during daily diet, the recommended amount of phosphorus should be less than 600-1200 mg/d.
- the application of active vitamin D calcium, dialysate adjusted to an appropriate concentration of calcium to prevent hypercalcemia.
2. Cause: the quality of nitrogen retention metabolites
The quality of nitrogen metabolites retention can stimulate the skin irritation and makes the sebaceous glands and sweat glands atrophy, which can cause varying degrees of skin dryness, scaling and skin itching.
Treatment:
- reduce low-flux dialyzer reuse times, increase the number of dialysis
- during the dialysis process, close observation of the dialysis machine functioning properly, try to make early discovery, early prevention, early treatment.
- the operation must be standardized term care, attention to aseptic technique when performing the treatment, to ensure safety during dialysis treatment.
3. Cause: allergies can also cause skin itching for dialysis patients
During dialysis, renal failure patients can get allergic reaction caused by many factors, which can also lead to skin itching.
Treatment:
- the use of antihistamine drugs
- Encourage patient comfort, reduce patient tension
- Select the good biocompatibility of the dialyzer to reduce allergic reactions caused by ethylene oxide
Above are about the causes and treatment for skin itching for dialysis patients. When dialysis patients get severe skin itching, they need first get the main cause, and then take proper treatment to control it. If you want to learn more about the treatment for skin itching in dialysis, you can leave a message below, or you can also send e-mail to kidneycares@hotmail.com, we can give more help.
Our Treatment Effect
High creatinine level is dangerous to a kidney patient
Move the mouse to enlarge the picture
If you also want to reduce your high creatinine level, please look at this patient's report. When he was just hospitalized in our hospital on Dec 11, 2018,
His creatinine:1028umol/L,
urea: 39.7mmol/L
UA : 513umol/L
After a period of our treatment,
his creatinine:331umol/L, urea:16.1mmol/L
UA :325umol/L on Jan 5, 2019.
His condition was getting better and better. You can also get better.
For a CKD patient, you can choose Chinese medicine treatments to control your condition. your creatinine level can be reduced radically, symptoms can be alleviated and more importantly, your renal function will be improved. In this way, you can stay away from end stage kidney disease and avoid dialysis.