Dialysis: How Do I Deal With A Persistent Thirst For Water
2015-12-05 02:30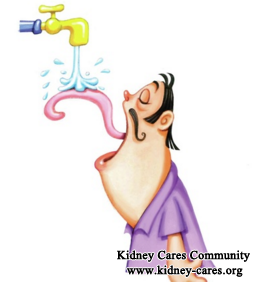 Persistent thirst for water can be a common complication in dialysis patients. But the doctors always tell them to limit water intake but they feel very thirsty. So how do they deal with a persistent thirst for water in dialysis?
1. Why dialysis patients feel very thirsty?
People begin dialysis when more than 85% kidney function has lost. That is to say, kidneys at this time has lost their ability to control fluid. If you have begun dialysis, the goal of fluid limitation is to help you feel comfortable before, during and after your dialysis sessions. However, while dialysis can help remove excess fluid and wastes from the body, it is not as effective as healthy kidneys. This is the reason why many patients have decreased urine output or even swelling but have persistent thirst. Besides, vomiting and diarrhea can also aggravate thirst because more fluid is lost but patients do not drink excess water.
2. How to deal with a persistent thirst for water in dialysis?
Limit sodium intake
Salty foods make you thirsty so limit sodium intake to help control thirst. Salty foods include fresh and processed poultry, cheeseburger/sandwiches, cheese, soup and pasta dishes,etc. Read the labels every time you buy a product, because food manufactures often change their ingredients.
Glucose control
If you have diabetes, keep your glucose in good control. High blood sugar will increase your thirst.
Drink beverages ice cold
Beverage ice cold will be more refreshing and will quench your thirst.
Be aware of hidden liquid foods
You should be careful with hidden liquid foods like gelatin, ice, soup, gravy and watermelon. Remember to count foods liquid at room temperature as part of your fluid intake.
There are many other options to help deal with your persistent thirst for water, but all of the above are only able to remit your symptoms and do nothing to your damaged kidneys. If you want to treat your persistent thirsty feeling, you had better take treatment to repair your injured kidneys and improve kidney function. When kidney function is improved, dialysis is able to be avoided. Then thirsty feeling will be alleviated naturally.