What Are Good Foods For A Dialysis Patient On Thanksgiving Day
2015-11-02 08:04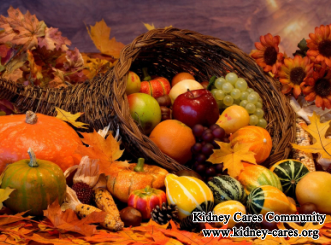 If you are a dialysis patient, you must follow a strict renal diet and Thanksgiving probably stresses you out. Diet is an integral part of managing chronic kidney disease and ensuring overall health and quality of life for dialysis patients. Because kidneys fail to filter and eliminate waste products and excess fluid, kidney patients' diets including maintaining adequate nutrition and keeping minerals and electrolytes in balance. Well, what are good foods for a dialysis patient on Thanksgiving day?
1. Eat foods with protein
In dialysis, you need lots of protein so enjoy the turkey. Skip the gravy because gravy= fluid+ salt.
2. Choose low potassium vegetables and dishes
Choose low potassium vegetables without sauces such as broccoli, turnips, carrots, cauliflowers, peppers, cabbages, green beans, green peas, squash, lettuce salad with cucumbers and radish.
3. Reduce phosphorus intake
Remove the cheese or nut topping- no need to eat extra phosphorus when what's underneath is so good.
4. Limit salty foods
Salt will make you thirsty. If you eat too much salt, you may drink too much fluid and possibly make your next dialysis treatment difficulty. Thus, it is necessary for you to avoid or limit salty foods.
5. Do not eat raw eggs
Use pasteurized eggs in recipes that call for uncooked eggs or buy commercially prepared egg products that have been pasteurized.
Thanksgiving menu includes delicious recipes for turkey and all the traditional trimmings while keeping the feast low in sodium, phosphorus and potassium. The recipes are suitable for dialysis patients including shrimp spread with crackers, cranberry Dijon Vinaigrette dressing, fresh herb cranberry stuffing, garlic mashed potatoes and easy pumpkin cheesecake. For more kidney-friendly Thanksgiving tips, you can email kidneycares@hotmail.com or consult our online doctor directly. We will reply you as soon as possible.