What Is The Etiology Of the Pruritus In Patients Taking Hemodialysis
2015-10-27 03:31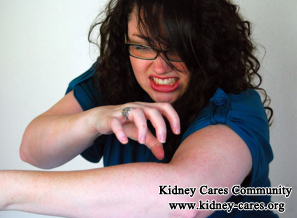 What is the etiology of pruritus in patients taking hemodialysis? Pruritus is one of the most bothersome symptoms in patients on maintenance hemodialysis. In this article, we will talk about the causes of pruritus.
Pruritus usually begins about six months after the start of dialysis and several causes can result in pruritus in dialysis.
1. Xerosis
Xerosis is seen in the majority of patients on Hemodialysis and it may contribute to pruritus. Xerosis found in hemodialysis patients has been attributed to increased level of vitamin A in epidermis, atrophy of sebaceous and sweat glands and dysautonomia.
2. Increased serum levels of magnesium, phosphorus and calcium
Increased serum levels of magnesium, phosphorus and calcium have been proven to be involved in uremic pruritus. It has been suggested that an increased skin divalent ions concentration may cause microprecipitation of calcium or magnesium phosphate, which may be the cause of pruritus.
3. Hyperparathyroidism
Hyperparathyroidism is another cause of uremic pruritus. This hormone can indirectly cause metabolic alteration that subsequently cause pruritus.
4. Iron deficiency anemia
Iron deficiency anemia contributes to renal itch according to some studies.
What is the treatment for pruritus in dialysis patients?
1. Dietary therapy
A renal diet that contains low phosphorus is helpful for uremia patients to treat pruritus. Common high phosphorus foods include cheese, milk, beef liver, fish roe, chick peas, lentils and so on.
2. Micro-Chinese Medicine Osmotherapy
This therapy is a radical treatment for uremia patients. The active ingredients in Chinese Medicines can come to kidney lesion directly with the help of osmosis device. Patients just need to lie on the bed to take this therapy. Two medicated bags filled with processed medicines are placed on patients' back. This therapy is just like a massage and patients feel very comfortable. Micro-Chinese Medicine Osmotherapy can help repair injured kidneys and improve kidney function. When kidney function is improved, it can help balance serum levels of magnesium, phosphorus and calcium, and adjust metabolism. This can treat pruritis from the root. Other therapies like Foot bath, Medicated full bath, Mai Kang Mixture and Medicinal Soup may also be used together with Micro-Chinese Medicine Osmotherapy. The therapeutic effect will be much better.
Any question, please leave us a message below or consult our online doctor directly. We are glad to help you.