How Do Dialysis Patients Get A Regular Bowel Movement
2015-10-21 08:51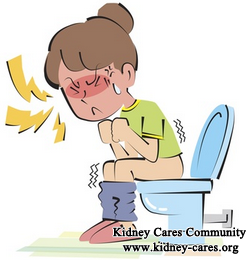 Due to dietary restrictions and other factors, dialysis patients commonly experience problems with constipation. This can make patients painful and bloated stomach. They are eager to find ways to relieve this condition. Well how do dialysis patients get a regular bowel movement?
Causes of constipation in dialysis patients
A low fiber diet is one of the most common causes of constipation in renal patients. Other causes of constipation include medications, hormonal disorders, fluid restriction, lack of exercise and reduced dietary fiber intake.
How to dialysis patients get a regular bowel movement?
1. Get enough fiber intake
There are two types of fiber: soluble and insoluble. Soluble fiber dissolves in water and creates softer and larger stools. Insoluble fiber does not dissolve in water. It takes in water and makes stool bulkier to help bowel movements pass more easily. Generally adults need to consume 20-35 grams of fiber every day. However, as for dialysis patients who limit fluid intake, this may be too much since increased dietary fiber may require an increased fluid intake. All patients are different so the amount of fiber intake for constipation relieve varies from person to person. However, many high fiber foods are also rich in potassium or phosphorus and thus not renal-friendly.
2. Stool softeners
Dialysis patients may be prescribed stool softeners due to constipation for long periods of time. But they should consult the doctor for stool softener recommendations, dosage and frequency. Patients with kidney disease should not take a laxative without doctor's approval.
3. Chinese medicines
On the basis of Chinese medicines, our hospital has some creative remedies like Micro-Chinese Medicine Osmotherapy, Medicated Bath, Medicinal Soup and Mai Kang Mixture, etc. These therapies focus on repairing injured kidney tissues, regulating hormonal disorder and improving kidney function. When kidney function is improved, constipation can be relieved from the root. If you want to get their detailed information, you can leave us a message below or email us to kidneycares@mail.com. We are glad to help you.
4. Other options
Increase your daily activity level-daily walk, stretching and light housework.
Do not use laxatives or stool softeners for a long time
If you have to go to the bathroom-go. Do not hold on to it.