What Is The Management Of Dyspnea After Dialysis
2015-10-02 02:57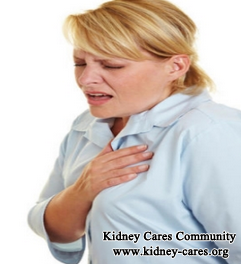 Many patients after dialysis suffer from dyspnea. This is a very dangerous condition. Well then, what is the management of dyspnea after dialysis?
Dyspnea after dialysis can be caused by several factors so the treatment will also be different.
Causes of shortness of breath after dialysis:
1. Anemia
In advanced stage, anemia is easy to occur. With dialysis, anemia may become worse because some red blood cells may be removed through dialysis. With anemia, patients may suffer from dyspnea even if they do not do any physical exercises.
2. Fluid retention
In late stage of kidney disease, these normal amounts of fluid may cause problems. Too much fluid can accumulate in the body and be dangerous. Dialysis can help remove some excess fluid and wastes out of the body, but it is not as effective as healthy kidneys. The build up of fluid can lead to swelling and blood pressure elevation, which makes the heart work harder. What's more. The fluid can even build up in the lung. Under such a condition, it is difficult for you to breathe. This is a possible reason for dyspnea after dialysis.
3. Low blood pressure
Low blood pressure is often experienced by dialysis patients. Almost all kidney failure patients have high blood pressure which require them to take some hypotensive drugs to manage. Dialysis itself can cause decrease of blood pressure, so it is very important for you to adjust medicine dosage before dialysis. Otherwise, you will experience extremely low blood pressure, which can cause dyspnea and even coma.
Different condition requires different treatment. If your shortness of breath is caused by fluid retention, you should keep a reasonable fluid restriction. If your shortness of breath is caused low blood pressure, you should adjust your drug dosage for high blood pressure before dialysis. However, all this cure the symptoms not the disease. If you still have some certain urine output, the frequency of dialysis will be reduced with the improvement of kidney function. And dialysis can even be stopped if an effective treatment can be used. Nowadays, Micro-Chinese Medicine Osmotherapy, Medicated Bath, Mai Kang Mixture and Medicinal soup, etc in our hospital can help repair injured kidneys and improve kidney function. You may need one or more therapy according to your illness conditions.