What To Do When Complications Occur During Dialysis
2015-07-19 02:16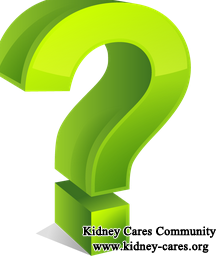 When kidney disease develops end stage renal disease, doctors usually will recommend dialysis, especially for hemodialysis. The major function of dialysis is to cleanse toxic and harmful substances in blood. Dialysis can replace kidneys to perform detoxifying function and protect the body organs from being damaged due to lots of toxins in the body. However, dialysis is not perfect. On the contrary, it will cause various complications and make patients miserable. Well then, what to do when complications occur during dialysis?
1. First-use syndrome (allergic-type reaction )
It occurs after several minutes to 30 minutes when dialysis is started. Patients can suffer from symptoms like burning sensation, difficult breath, itchy skin, abdominal colic and diarrhea, etc.
Solution:
Stop dialysis immediately. Conventional treatment should be given for allergy. Do not re-infuse blood in dialyzer and dialysis tubing to the body.
2. First-use syndrome (non-specificity )
This usually occurs after several several minutes to one hour when dialysis is started. Patients will have chest pain and back pain.
Solution:
Enhancing observation and continue dialysis. Give oxygen and symptomatic treatment to patients.
3. Dialysis disequilibrium syndrome
Since the solute concentration in blood reduces quickly during dialysis, osmotic pressure difference between blood and brain tissue. Besides, the use of highly efficient dialyzer, quick and large amount of ultrafiltration are all contributors of dialysis disequilibrium syndrome. Patients may suffer from headache, vomiting, nausea and muscle cramp. These symptoms may disappear after 30 minutes.
Solution:
Patients with mild condition can be given hypertonic saline or hypertonic glucose liquid intravenous injection. As for patients with a long-term of dialysis, natrium concentration should be increased moderately to prevent dialysis disequilibrium syndrome.
4. Low blood pressure
Low blood pressure can be caused by excessive ultrafiltration, hypovolemia, hypotensive drugs, using acetate dialysis and eating during dialysis.
Solution:
Stop ultrafiltration or reduce the speed of ultrafiltration, slow down blood flow and intravenous saline.
5. High blood pressure
Since water-sodium retention, improper capacity or elevated renin angiotensin all can lead to high blood pressure in dialysis.
Solution:
If the condition is serious, patients can be injected sodium nitroprusside.
Apart from the above complications of dialysis, dialysis can also lead to fever, hemolysis, arrhythmia, electrolyte disorder, cardiovascular disease, nervous disease and dialysis-related amyloidosis, etc.
Although dialysis can remove toxic and harmful substances from the blood, it is not effective for lots of immune complexes depositing in kidneys while 4M Treatment (Micro-Chinese Medicine Osmotherapy, Medicated Foot Bath, Mai Kang Mixture and Medicinal Soup ) can remedy this limitation. The active ingredients in Chinese Medicines can remove immune complexes, improve renal microcirculation, protect kidney cells and restore kidney function gradually.
Our Treatment Effect
High creatinine level is dangerous to a kidney patient
Move the mouse to enlarge the picture
If you also want to reduce your high creatinine level, please look at this patient's report. When he was just hospitalized in our hospital on Dec 11, 2018,
His creatinine:1028umol/L,
urea: 39.7mmol/L
UA : 513umol/L
After a period of our treatment,
his creatinine:331umol/L, urea:16.1mmol/L
UA :325umol/L on Jan 5, 2019.
His condition was getting better and better. You can also get better.
For a CKD patient, you can choose Chinese medicine treatments to control your condition. your creatinine level can be reduced radically, symptoms can be alleviated and more importantly, your renal function will be improved. In this way, you can stay away from end stage kidney disease and avoid dialysis.