The Function Of Hemodialysis In Uremia Treatment
2015-06-06 01:47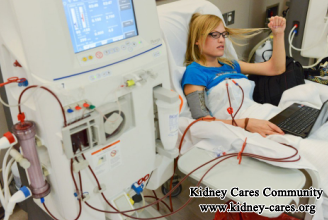 Kidney disease patients are not unfamiliar with hemodialysis and even people without kidney disease also know dialysis is a common method in renal disease treatment. In people's idea, dialysis has become a necessary method for uremia treatment and even the only method. What is the function of hemodialysis in uremia treatment?
First, we need to know what uremia is.
Uremia is a more popular version that chronic kidney failure develops to end stage. In clinical judgment, there are two judgment data: one is endogenous creatinine clearance is lower 10ml/min and the other is serum creatinine level is higher 707umol/L.
Simply speaking, when more than 90% kidney function is damaged, it cannot expel toxins in the body, causing a lot of toxins depositing in the body so as to lead to various clinical symptoms.
Declined kidney function causes creatinine elevation. Thus, high serum creatinine level is a result rather than the cause.
Dialysis helps cleanse small molecular substances in blood such as creatinine and urea nitrogen.
In uremia stage, lots of creatinine and urea nitrogen accumulate in blood, which will cause damages on other systems such as respiratory system, digestive system, cardiovascular system and nervous system, etc. Therefore, it is very important to remove creatinine and urea nitrogen out of the body. This is the significance of dialysis.
However, dialysis is only a cleaning method. It is necessary but not the only one. Besides, dialysis is only a remedy to delay the progression of kidney disease but it is not a treatment method. Because dialysis cannot protect kidney function and stop blood from being polluted again.
Therefore, if patients want to use dialysis to treat uremia, they may be disappointed. Because dialysis does not have the function of treating uremia. What's more, it will speed up the occurrence of kidney failure.
The treatment for uremia should protect and recover kidney function. Chinese medicine treatment can help achieve the goal. If you want to know detailed information about Chinese Medicine Treatment, you can send email to kidneycares@hotmail.com or consult our online doctor directly. We will reply you as soon as possible.
Our Treatment Effect
High creatinine level is dangerous to a kidney patient
Move the mouse to enlarge the picture
If you also want to reduce your high creatinine level, please look at this patient's report. When he was just hospitalized in our hospital on Dec 11, 2018,
His creatinine:1028umol/L,
urea: 39.7mmol/L
UA : 513umol/L
After a period of our treatment,
his creatinine:331umol/L, urea:16.1mmol/L
UA :325umol/L on Jan 5, 2019.
His condition was getting better and better. You can also get better.
For a CKD patient, you can choose Chinese medicine treatments to control your condition. your creatinine level can be reduced radically, symptoms can be alleviated and more importantly, your renal function will be improved. In this way, you can stay away from end stage kidney disease and avoid dialysis.