Can I Take Vitamin E Daily Due To Dialysis
2015-05-27 03:10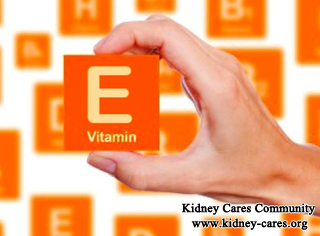 Vitamins are essential for normal body function and overall health. And they are available that contain all of the vitamins that are needed by dialysis patients, including high doses of folic acid. Well then, can patients take vitamin E daily due to dialysis?
Vitamin E is not removed by dialysis. Your diet should supply enough vitamin E. Taking vitamin E has the following health benefits:
1. Protect heart
Chronic dialysis patients are known to have excess cardiovascular mortality. Researchers now report that dialysis patients can reduce their risk of cardiovascular complications by supplementing with vitamin E. Vitamin E supplementation substantially reduces the risk of further cardiovascular complications, especially heart attack, among chronic dialysis patients with pre-existing heart disease.
2. Ease muscle cramps during dialysis
Muscle cramps can be very painful in any circumstances and unfortunately this can occur during hemodialysis treatment. Researches decided to seek for possible methods to prevent this painful experience and found some reports that vitamin E may be helpful in reducing or preventing cramp during hemodialysis. They randomly selected a small group of 19 hemodialysis patients who are from different age group and different ethnicity. The patients had experienced at least 60 attacks of muscle cramps over a 12 week period. They were given daily doses of 400mg of vitamin E and the number of attacks of cramp was recorded. The results showed that there was a 68.3% reduction in the number of attacks across the board. In conclusion short-term treatment with vitamin E was a safe and effective treatment for patients suffering from cramp during and after dialysis.
From the above, we can see vitamin E has benefits for dialysis patients. However, not everyone is allowed. If you want to know whether vitamin E is suitable for you or not, you should consult with your doctor or online doctor first before taking it.