What Is The Disadvantage Of Dialysis
2015-05-06 03:17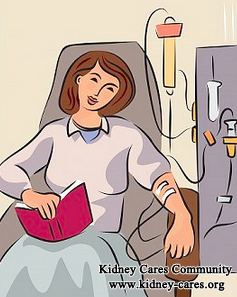 Patients with very low kidney function go on dialysis when their kidneys cannot reliably filter their blood. It can do some help for kidney disease patients but dialysis also has some disadvantages. Well, what is the disadvantage of dialysis?
We state the disadvantage of dialysis from the following aspect:
1. Time
Dialysis is done three times a week, usually for 3 hours. For some people, this may be done more frequently.
2. Low blood pressure
With kidney disease, it is very important to keep the blood pressure low, which prevents further damage to the kidney. However, while dialysis is being done, there are large changes in the amount of blood/fluid in circulation in the body. This can lead to abrupt lowering of blood pressure.
3. Risk of infection
In order to do dialysis, a very large catheter is needed to allow sufficient blood flow. If known in advance, a fistula is placed into the arm, and a needle is inserted into it each time, otherwise, a catheter is placed into the jugular vein or the femoral vein. These are prone to become infected, either in the skin around it or by allowing introduction of bacteria into the blood stream.
4. Loss of protein
Dialysis can cause the loss of protein and vitamin, which should be supplemented through diet.
5. Disturbance of electrolyte and acid base
Inadequate dialysis and poor diet control can lead to hyperkalemia. The excess of dialysis and poor diet can cause hypokalemia.
6. First use syndrome
One of the most severe complications of dialysis is first use syndrome. This is actually an anaphylactic reaction to the machine.
With these disadvantages of dialysis, most patients do not want to do dialysis. Is there any alternative way for kidney disease besides dialysis. Yes, in China there are 4M Treatment (Mai Kang Mixture, Micro-Chinese Medicine Osmotherapy, Medicated foot bath and various Medical soup) and 7 External Application of Chinese Medicine including acupuncture, steaming therapy, moxibustion, enema therapy, medicated bath, circle therapy and acupoint application. These remedies can repair kidney damage and improve renal function. When kidney function is improved, it is possible to get rid of dialysis.