Is There A Way To Stop The Cramp In Your Legs During Dialysis
2015-03-19 05:42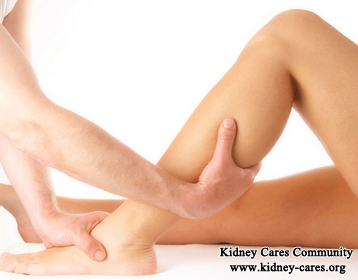 Muscle cramps occur frequently in patients receiving dialysis. Muscle cramp can involve the legs, most commonly in the feet, but can also involve arms and hands, as well as abdominal muscles. The pain of leg cramp can weaken patients in night. Well, is there a way to stop the cramp in legs during dialysis?
Here we provide you several ways to alleviate leg cramps during dialysis.
1. Quinine
Quinine is a medication that has been used for many years for treating cramps both in the general population and in dialysis population. It reduces muscle cramps by decreasing excitability of the nerve stimulations, which increases the muscle refractory period and subsequently prevents prolonged muscle contractions. Quinine will also cause some adverse effects like dizziness, nausea and vomiting, hypersensitivity reaction and hemolytic uremic syndrome. Patients should be concerned about these side effects.
2. Vitamin E
Studies suggest that vitamin E may be an alternative therapy for the management of leg cramps for patients receiving dialysis. It is recommended that vitamin E supplementation be limited to 60mg to 100 mg daily. Higher doses can result in the accumulation of a metabolite of vitamin C called oxalate. High oxalate levels in blood may lead to the development of kidney stones.
3. non-pharmacologic therapy
The most common factors related to dialysis procedure itself are volume contraction and hyponatremia. Preventing hypotension related to dialysis, minimizing interdialytic weight gains including reevaculating the patient's appropriate dry weight, the use of sodium modeling, increasing the hemodialysis, or switching to peritoneal dialysis have been effective in reducing the frequency of cramps.
Besides, local massage of the affected muscle and the application of moist heat may also provide some comfort. Performing mild exercise such as riding a stationary bicycle during dialysis or prior to bedtime, minimizing alcohol and keeping bed covers loose and not tucked in can also prevent cramps.
4. Chinese medicine treatment
Chinese medicine treatments like Micro-Chinese Medicine Osmotherapy, Medicated Bath, Foot Bath Therapy, Acupuncture, Mai Kang Mixture and Cupping Therapy can all do something to repair damaged kidneys and improve renal function. When kidney function is improved, you have a chance to avoid or reduce the frequency of dialysis. In this way, muscle cramps can be treated from the root.
We hope the above information is helpful for you. If you want to know more information about kidney disease, you can send mails to kidneycares@hotmail.com or consult our online doctor directly. We will reply you as soon as possible.
Our Treatment Effect
High creatinine level is dangerous to a kidney patient
Move the mouse to enlarge the picture
If you also want to reduce your high creatinine level, please look at this patient's report. When he was just hospitalized in our hospital on Dec 11, 2018,
His creatinine:1028umol/L,
urea: 39.7mmol/L
UA : 513umol/L
After a period of our treatment,
his creatinine:331umol/L, urea:16.1mmol/L
UA :325umol/L on Jan 5, 2019.
His condition was getting better and better. You can also get better.
For a CKD patient, you can choose Chinese medicine treatments to control your condition. your creatinine level can be reduced radically, symptoms can be alleviated and more importantly, your renal function will be improved. In this way, you can stay away from end stage kidney disease and avoid dialysis.