Is Dizziness A Common Side Effect of Dialysis
2015-02-18 07:19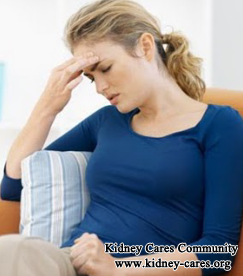 It is widely known by kidney failure patients that dialysis always cause terrible side effects which not only affect life quality, but also threaten their life if not managed well. Well, is dizziness a common side effect of dialysis? What causes dizziness in dialysis?
Dizziness is a very uncomfortable feeling of being lightheaded,woozy or unbalanced. Many people have to stop what they are doing and then have a bed rest when they have dizziness. For dialysis patients, they are very likely to experience this side effect and usually this condition results from:
-low blood pressure or hypotension
This is the most common cause of dizziness in dialysis which usually appears due to removal of too much weight, taking antihypertensive pills before dialysis and heart disease.
-high blood pressure or hypertension
Low blood pressure during dialysis can cause dizziness, persistent high blood pressure also can lead to this kind of physical discomfort. The most common cause of hypertension for dialysis patients include fluid overload, non-compliance with blood pressure medicines, anxiety and renin overproduction.
-renal anemia
For dialysis patients, they may also experience dizziness due to renal anemia. In such a case, dizziness is always accompanied with tiredness, pale skin, difficulty concentrating, loss of energy, leg cramps and insomnia.
Dizziness is just one of the side effects of dialysis. Besides it, patients usually also experience headache, fatigue, nausea, vomiting, skin itching, sleep problem and even comma. For kidney failure patients, dialysis helps them purify blood, but can not repair kidney damages and increase kidney function. Therefore, they have to do dialysis the rest of their life and suffer various side effects if they do not take effective treatment to strengthen kidneys. Here, you can ask consult online doctor to get individual advice about how to strengthen kidney.
Our Treatment Effect
High creatinine level is dangerous to a kidney patient
Move the mouse to enlarge the picture
If you also want to reduce your high creatinine level, please look at this patient's report. When he was just hospitalized in our hospital on Dec 11, 2018,
His creatinine:1028umol/L,
urea: 39.7mmol/L
UA : 513umol/L
After a period of our treatment,
his creatinine:331umol/L, urea:16.1mmol/L
UA :325umol/L on Jan 5, 2019.
His condition was getting better and better. You can also get better.
For a CKD patient, you can choose Chinese medicine treatments to control your condition. your creatinine level can be reduced radically, symptoms can be alleviated and more importantly, your renal function will be improved. In this way, you can stay away from end stage kidney disease and avoid dialysis.