Can You Get Pregnant With Kidney Dialysis
2015-02-04 09:05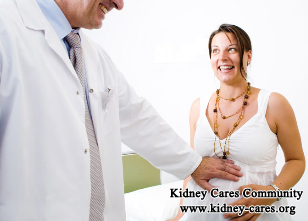 Women with kidney disease who are on dialysis may wonder how dialysis will affect their chances of getting pregnant and delivering a healthy baby. Is pregnancy recommended for women on dialysis?
Generally pregnancy is not recommended for dialysis patients because it is considered a high risk pregnancy. Healthy kidneys work all day everyday, while dialysis is only about 12 hours per week and replaces only a portion of renal function. Dialysis patients have a higher level of waste products than someone with good kidney function. Having extra wastes in the body makes it harder for the baby to develop as it should.
During pregnancy, healthy kidneys work overtime to keep the blood clean because the body releases wastes into the mother's blood stream, and she also has an increased amount of blood in her body. Therefore, for dialysis women whose kidneys do not work, pregnancy is even harder on the body, and more frequent dialysis is recommended to keep the blood as clean as possible.
Dialysis women cannot get pregnant because kidney disease can decrease the ability to produce healthy eggs that can be fertilized.
What's more, some women on dialysis may not menstruate or if they do, they do not have regular periods. This is because there are irregular hormone levels in the body.
From the above, we can know dialysis women generally are not allowed to give birth to a baby. However, in rare cases, some women on dialysis can also get pregnancy. Of these pregnancies, about 20 percent will end in miscarriage. A full term pregnancy is about 40 weeks, however, about 80 percent of dialysis pregnancies will only go about 20 weeks, resulting in a premature birth.
If you happen to be a dialysis woman and want to have a baby or discovers you are pregnant, you should talk with your doctor or our online doctor about your individual condition. The doctor will give you some help to increase the chances of keeping woman healthy and to help her give birth to a baby successfully.