Precautions for Hemodialysis Patients
2015-01-06 16:34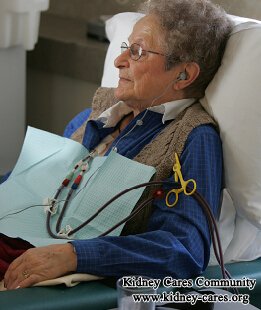 Hemodialysis is a kidney replacement treatment for kidney failure patients. What precautions should be taken for hemodialysis patients? To know the answer helps you live a relatively normal life.
Pay attention to the water intake
Hemodialysis can not improve kidney function. Between dialysis sessions, fluid and waste products build up in the blood again, leading to body swelling and some other symptoms. Therefore, hemodialysis patients should limit the water intake.
-Measure urine output every day
-The amount of water intake is urine output+500 ml water
-Avoid food high in salt, such as pickles, bacon, canned products, etc.
-Food high in fluid should be limited as well, such as porridge, watermelon, etc.
Pay attention to other diet intake
-During dialysis, patients lose a lot of protein. Therefore, in the daily you should supplement 1.2 g/kg high quality protein per day.
-Limit the intake of sodium into 5 g per day.
-If your blood potassium is high, you should avoid food high in potassium such as celery, tomato, bananas, peach, nuts, etc.
-Supplement vitamins, such as vitamin B and vitamin C. Fresh vegetables and fruits are good sources of vitamins. Besides, dialysis patients should consume calcium and vitamin D to prevent bone disease.
Pay attention to the fistula
-Do not use the arm with fistula to carry heavy things.
-Do not press the arm when you sleep.
-Keep the fistula area clean in case of infection.
-Keep close attention to the change of fistula.
Pay attention to emotion
-Long-term dialysis may make the patients depressed. In such case, you should share this unhealthy emotion to other people.
-Chat with the patients who have a successful recovery.
Pay attention to blood pressure
High blood pressure is the main cause of cardiovascular disease for dialysis patients. And this disease is the main cause of death for dialysis. Therefore, dialysis patients should stabilize blood pressure and take antihypertensive under the instruction of doctors.
Moreover, you should improve anemia, limit the intake of fat, avoid tobacco and alcohol, have a good rest, keep bowel movement regularly, etc.
From the above information about precautions for hemodialysis patients, we can see that dialysis is not perfect. If you want to improve life quality, you should repair the damaged kidneys and improve kidney function so as to avoid dialysis. For more information, please contact online doctor or leave a message below.