What Is Dialysis Treatment
2015-01-03 05:19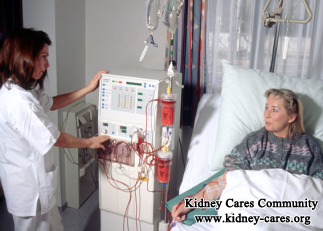 What is dialysis treatment? I am sure almost all the kidney disease patients are familiar with this word, but few of them really know about it. It is said all the kidney disease patients will end up with dialysis unless they find a matched kidney to have kidney transplant. Dialysis is life-supportive. It helps to increase life quality and prolong life span, but no kidney failure patients want to do dialysis and some of them prefer die rather than it. Why is this? What is dialysis treatment on earth?
Dialysis is regarded as a treatment for kidney failure in some areas or countries, but actually it is not a precise statement. Kidney is the natural filter of our body. It filters blood and during this process removes wastes and unwanted fluid out of the body as urine. In kidney failure, kidneys can not do this job anymore, as a result of which, wastes build up in blood. Dialysis is a renal replacement therapy, not a real treatment for kidney, because it can replace damaged kidneys to filter blood, but can not repair kidney damages to increase kidney function.
Dialysis is a medical procedure in which blood is filtered outside the body and then clean blood is transfused back to the body again through tube. It is a way to keep blood clean and protect internal organs from being damaged by toxins in blood, but unfortunately, long-term dialysis always cause side effects like headache, low blood pressure, skin itching, vomiting, fatigue and even coma. Besides, dialysis helps to purify blood, but can not repair kidney damages, so kidney function is not improved at all after dialysis. Also, to keep blood clean, kidney failure patients have to do dialysis regularly once they start. For these reasons, many kidney failure patients do not do dialysis until their life are really threatened.
Dialysis is a medical way to help kidney failure patients prolong lifespan, but it is not the best solution and also it is not a real treatment for damaged kidney. Lastly, dialysis patients always experience lots of physical discomforts and if you want to know more about them, please leave us a message or ask online doctor for help.