There Is Chance to Get Off Dialysis For one Who Just Starts Recently
2014-12-22 09:12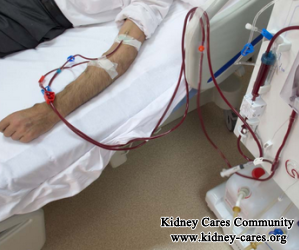 Dialysis is indeed life-supportive, but we are sorry to tell there is less chance for people who have been on dialysis for many years to live without it unless they find a matched kidney. Dialysis helps to cleanse blood, but can not repair kidney damages, so kidney function can not be improved at all after kidney dialysis. For kidney failure patients who just start dialysis recently, although they can not get their kidney function improved, there is higher chance for them to get off dialysis successfully.
For kidney failure patients who are newly on dialysis, the residual kidney function is not able to help them maintain the normal life activity, but they usually still have some healthy kidney function, which presents as they still can pass some urine. One of the major jobs of kidney is to filter blood and produce urine during this process. Urine output means kidneys still can filter some blood and under such a condition, there is chance for effective medicines to get into kidney to repair kidney damages with bloodstream.
Dialysis helps filter blood, but for patients who have done dialysis for many years, due to renal ischemia and renal anoxia, the residual kidney tissues can not get enough oxygen and nutrients from blood. As a result of this, residual kidney tissues become necrotic finally. When all the kidney tissues can not work normally, kidneys can not filter blood any more and also no urine is passed. In such a case, not matter how effective the medicine, there is no effective way for them to get into kidneys to repair kidney damages. That is the reason why people who are newly on dialysis have higher chance to get off dialysis, compared with these who have been on dialysis for many years.
For patients who are newly on dialysis, they need to repair the injured kidney tissues if they want to improve kidney function and get off dialysis. Micro-Chinese Medicine Osmotherapy is a herbal treatment which has been used to treat kidney failure patients from more than 64 countries. It is a safe treatment and so far available in China. If you are interested in it and want to learn more details, please leave us a message below or contact online doctor directly.