Is Celery Good For Dialysis Patients
2014-12-19 01:54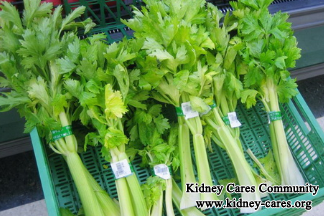 Diet is important for a dialysis patient. Apart from its crunchy and pleasant taste, celery also contains many essential nutrients that your body needs to stay healthy. Dialysis patients can get some health benefits from celery. Please see the following information.
Dialysis patients can get the following benefits from celery:
1. lower high blood pressure
High blood pressure is a leading cause of kidney disease. If left untreated, it will cause further kidney damage and speed up the disease into renal failure. Celery contains pthalides that help relax the muscles around the arteries. This allows blood vessels to dilate, thereby reducing pressure. Besides, the potassium in celery also help regulate blood pressure. However, if you have high potassium level in blood, you should be careful with celery intake.
2. reduce inflammation
celery is believed to have anti-inflammatory properties, which may help with illness caused by inflammation. Reducing inflammation also helps reduce the risk of the relapse of kidney disease.
3. enhance immune system
dialysis patients need to consume vitamin C rich food. Because vitamin C helps enhance your body's immune system and protect your body against free radicals.
4. kidney function
celery promotes healthy and normal kidney function by aiding elimination of toxins from the body. While eliminating toxins, it also prevent the formation of kidney stones.
5. diuretic
celery can help regulate body fluid and stimulate the urine production, making it an important help to rid the body of excess fluid. As for kidney disease people with edema, they can eat celery moderately.
In summary, dialysis patients can consume celery. It does not mean all patients can eat it due to different medical conditions. Thus, if you do not know whether you can eat celery or not, you can consult our online doctor or leave us a message below.