What Causes Shiver in Dialysis
2014-12-08 05:34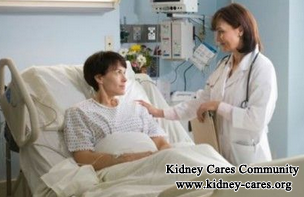 What causes shiver in dialysis? Except kidney transplant, dialysis is regarded as the only life-support medical method for kidney failure in many countries. Dialysis is very helpful, as it can cleanse blood and protect internal organs from being damaged. It aids to prolong life span, but during that patients always encounter many terrible side effects like shiver, headache, low blood pressure and even coma. Well, what causes shiver in dialysis?
Shiver is one of the problems that dialysis patients may encounter during dialysis and it usually appears due to:
1. Low blood pressure
One of the causes for shiver in dialysis is low blood pressure which usually results from quick removal of body weight, taking antihypertensive drugs before dialysis, heart disease and septicemia, etc.
2. Infection
In some cases, dialysis patients also experience shiver due to infection. In such a case, shiver is usually accompanied with fever and chill.
3. Disequilibrium syndrome
Disequilibrium syndrome can also cause shiver problem, which usually results from slower transfer of urea from the brain tissue to the blood and rapid chances in serum electrolytes. Under such a condition, shiver is always accompanied with nausea, vomiting, restlessness and slurred speech and so on.
4. Improper operation of dialysis machine
Improper operation of dialysis machine like improper flow rate of dialyzate and extremely low temperature of dialyzate can also lead to shiver.
Lastly, shiver is just one of the discomforts caused by dialysis and except it, there are many others like tiredness, skin itching and sleep problem. Dialysis is life-sustaining, but it impairs life quality. For kidney failure patients who still have good urine output, actually they can try alternative like Micro-Chinese Medicine Osmotherapy. With effective alternative, they have great chance to avoid dialysis and also its side effects.