Can A Dialysis Patient Recover His Kidney Functionality
2014-12-02 11:18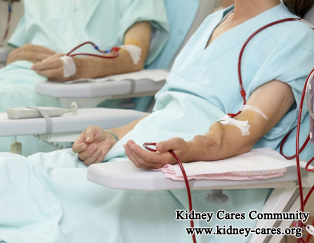 Can a dialysis patient recover his kidney functionality and come out of dialysis? Dialysis does take on some of the job of a healthy kidney but cannot cure kidney disease. Dialysis is necessary but it is torturous. Many patients who have started dialysis want to know whether they can come out of dialysis.
Frankly speaking, it is possible for a dialysis patient to come out of dialysis, but it does not mean all the dialysis patients have this chance. Dialysis is an artificial kidney and can perform some functions of kidney. With dialysis, blood can be purified, but it cannot repair kidney damage. As a result, once a person starts dialysis, he usually takes it frequently. If patients have have done dialysis for a long time, their urine output will become lesser and lesser. In some cases, patients may produce no urine due to severe kidney damage. Anuria indicates all the kidney tissues have lost their working ability. As for injured kidney intrinsic cells, they are able to get repaired and function again. However, in terms of necrotic cells, there is no treatment to revive them. Hence, if dialysis patients have no urine output, they need dialysis to maintain their life.
However, if dialysis patients have a certain urine output, it is likely for them to come out of dialysis through improving their renal function. We can use Chinese medicines to repair injured but not necrotic kidney cells. In this way, renal function will be improved to a certain degree. As long as your kidney function is increased to 15%, you can get rid of dialysis. But, if patients are on dialysis for many years, Chinese medicines may not do well on them. Therefore, you should treat your kidney disease as soon as possible. Only in this way you have a large chance to avoid dialysis.
If you want to get rid of dialysis by Chinese medicines, you can chat with our online doctor now.