Can A Dialysis Patient Take Coriander Juice
2014-09-27 03:29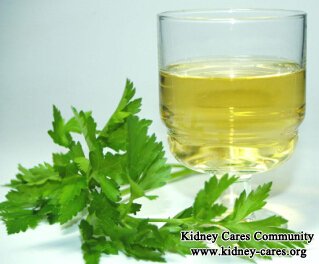 Dialysis patients are often required to follow a restricted diet. The diet should not only provide the essential nutrients for the body to maintain its function, but also produce less waste, because the kidneys can not remove the metabolic waste from the body. Coriander juice which is said to be very good for health. Can a dialysis patient take coriander juice?
Nutrient values of coriander juice
Coriander is packed with various minerals such as calcium, manganese, iron, magnesium, and potassium. Besides, it is rich in vitamins, such as vitamin A, beta carotene, vitamin C and folic acid. These are all good for human body. From this point of view, dialysis patients can take coriander juice.
Health benefits of coriander juice
-Drinking coriander juice can reduce bad cholesterol and increase good cholesterol levels. It can also lower blood pressure. Therefore, it can reduce your risk of heart disease, which is a common cause of death for dialysis patients.
-If you have diabetes, coriander juice is a good choice. Because it helps in regulating and keeping their blood sugar stable.
-Coriander juice also aids in digestion, anti-inflammation, prevent nausea and vomiting, curing anemia, detoxify blood, etc. Space limited, so we do not explain them in detail.
Precaution
Though coriander juice has so many health benefits, dialysis patients should control the intake of coriander juice, because it is high in potassium. Besides, the water content of coriander juice is high. Too much intake may worsen edema.
Now you can draw out the conclusion that dialysis patients can take coriander juice, but they should follow the allowed daily intake (ADI). If you do not know the ADI, you had better consult the doctor. For more information about kidney disease treatment, please feel free to contact online doctor or leave a message below.