When Is Dialysis Needed in Kidney Failure
2014-08-22 06:27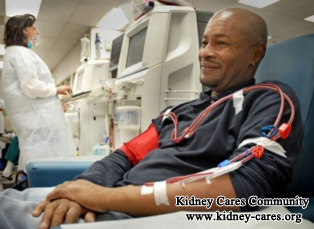 When is dialysis needed in kidney failure? Failed kidney can not help to purify blood well, so when kidney shut down, medical method is needed to keep blood clean. Dialysis is the most commonly used medical measure to clear toxins away from blood, so dialysis is always suggested for kidney failure patients. Well then, what is the best time for kidney failure patients to start dialysis?
There are several factors that help to decide whether dialysis is needed and they go as follow:
1. Serum creatinine level
Serum creatinine level is the most commonly used indicator while making the decision if dialysis is required or not. Creatinine is a substance that circulate with blood. It passes through kidney freely while blood flowing by kidney. However, when kidneys are damaged and filter less blood in limited time, creatinine level in blood increases. Creatinine is just one of the toxins that need to be removed out of the body by kidney, so elevation of serum creatinine level always means accumulation of toxins. Dialysis is applied to purify blood and in general, dialysis should be considered when creatinine level becomes higher than 5.
2. Symptoms
Serum creatinine is an important indicator for kidney function and dialysis, but in some cases, kidney failure patients may experience no obvious physical discomforts at all even if their creatinine level in blood has increased to the level as high as 8 or 9. Under such a condition, dialysis can be delayed. However, if patients are experiencing symptoms like vomiting, skin itching, pulmonary edema, and heart failure, dialysis is needed.
3. Potassium level in blood
Potassium level in blood is another factor that helps to decide when dialysis is needed by kidney failure patients. Normal potassium level should be in the range 3.5-5.0 mEq. Kidney is responsible for electrolyte balance, so potassium level becomes higher than normal range when kidney function is impaired. In general, dialysis is needed when potassium level in blood is as high as 6.5 mEq.
The above are the three factors that help to decide when dialysis is needed. Dialysis is needed to purify blood, but it can not repair kidney damages, so kidney failure can not be cured after dialysis. Although dialysis is needed and helpful for kidney failure patients, but in some cases of kidney failure, patients can avoid or get off dialysis with effective treatment.