What Are the Causes of Nose Bleeding of Chronic Kidney Failure Patients on Hemodialysis
2014-08-13 03:49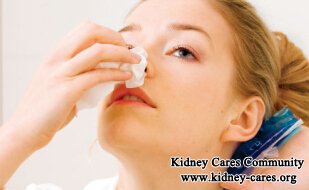 Nose bleeding sometimes makes people feel horrible. For chronic kidney failure patients, it is not uncommon. What are the causes of nose bleeding of chronic kidney failure patients on hemodialysis?
High blood pressure
Hemodialysis can not work as your own kidneys for 24 hours everyday. Besides, it only takes over part of kidney function to filter the waste and excess fluid from the blood. Between the dialysis sessions, waste and excess fluid build up the body, leading to high blood pressure. High blood pressure can impair nasal mucosa and give rise to nose bleeding.
In this case, you should control you blood pressure well. There are many medications, such as calcium channel blockers, diuretics, ACEI and so on to help you lower blood pressure.
Use of medications
Chronic kidney patients often have high cholesterol level, which can make the blood sticky. In order to prevent thrombus, patients often use blood thinning medications, which can cause nose bleeding as well. In addition, immunosuppressants and glucocorticoids are also contributors to nose bleeding.
In this case, you should discuss with doctor to change the medicine to some herbs, which has few side effects.
Infection
Almost all kidney patients have a low immunity. And because of the use of immunosuppressants, their immunity becomes lower and lower. And then bacteria invades into your body easily to cause infection. Nose bleeding may be a symptom of infection.
In this case, you should take some antibiotics under the instruction of your doctor to anti-infection.
Allergy
Allergic to the dialyzer or dialyzate often occurs in the first few times of dialysis. It can also lead to nose bleeding.
In this case, you should stop dialysis to change the dialyzer or dialyzate.
In addition, fever, cold, flu, hardened arteries, alcohol abuse and so on may be the causes of your nose bleeding. According to the different causes, you should take different measures to control your state of illness. If you are fed up the complications of dialysis and want to avoid dialysis, Micro-Chinese Medicine Osmotherapy is worth trying. With the help of online doctor, you can learn more information.