What Are Pros And Cons Of Dialysis At Home
2014-07-23 07:39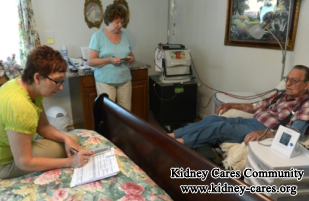 Kidney dialysis is a life-saving treatment given to people whose kidneys are failing. There are two forms of dialysis, each with its own pros and cons. Read on to find the advantages and disadvantages of dialysis.
The two types of dialysis are hemodialysis and peritoneal dialysis. And they both can be done at home. If you choose dialysis at home, it has the following advantages and disadvantages.
1. Advantages
The benefit of home dialysis is more time to do what you like.
Home dialysis patients have more freedom during their days and are able to live more normal lives. In addition, a change of place-from a center dialysis to home dialysis-can help make treatments more enjoyable and comfortable.
The benefit of home dialysis is a reduction in travel-related expenses.
Patients who choose a home dialysis benefit from a reduction in the amount of driving and thus save money each month on expenses, such as gasoline and auto maintenance.
The benefit of dialysis at home is an improved understanding of end stage renal disease.
Patients who take dialysis at home learn more about their disease than those who choose to do a center dialysis because they are more directly involved in their treatment.
The benefit of dialysis at home is improved quality of life.
When people change their dialysis from a center dialysis to home dialysis, they generally see improved outcomes overall, have more free time, save money and an improved understanding of their health conditions. These benefits contribute to an improved quality of life.
2. Disadvantages
If you take dialysis at a center, you will have a team of medical professionals who can help answer your questions. Also if you are not comfortable handling the dialysis process yourself or are elderly or disabled, hemodialysis may be a better choice for you. However, if you are at home, these problems cannot be solved.
The dialysis access site on your body can become infected no matter what type of dialysis you choose.
In short, everything has two side, so does home dialysis. Patients interested in dialysis at home must ask for allowance from their doctors before getting started.