What Foods Should You Eat When You Are On Dialysis
2014-07-18 02:06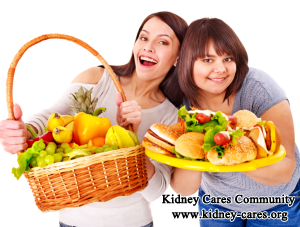 Dialysis removes waste from your blood. A dialysis also aims to decrease the amount of waste that builds up in your blood. You should follow a dialysis diet if you are receiving dialysis treatment. Well then what foods should you eat when you are on dialysis?
A general diet tip for dialysis is to limit potassium, phosphorus, sodium and liquid in your diet. You will need more protein that you did before you start dialysis. And the following will give a detailed diet on dialysis.
1. Monitor potassium intake
Grains, breads, cereals, fruits and vegetables are high amounts of potassium. If you are on dialysis, you should be careful about these foods. In addition, you also need to be careful with salt substitutes. Low potassium foods include white bread, rice and pasta, non-enriched rice milk, applesauce, canned peaches and carrots as well as cucumbers. High potassium foods like tomatoes, potatoes, bananas, whole grain foods and orange juice should be avoided or eaten sparingly while on dialysis.
2. Limit high phosphorus foods
With kidney disease, you should be cautious about not overeating high phosphorus foods. Milk and dairy products, meat, whole grains and cola are all high phosphorus foods.
3. Less salt intake
On dialysis, you should eat no more than 2,000 milligrams of sodium per day. You had better cook meals at home with fresh herbs and spices to limit added sodium. Avoid pre-packaged or canned foods high in sodium. What's more, when shopping for snacks, choose low-sodium or salt free versions of chips, pretzels and crackers.
4. Specific amounts of fluids intake
How much fluids per day you can drink depend on the amount of urine your kidneys produce. The fluid intake keep you hydrated, but does not make you retain too much fluid between dialysis sessions. On dialysis, cranberry, grape and apple are all good juice choices.
5. Balance protein intake
Protein from meat and other sources is important for your kidney diet. Beef, eggs, fish, pork and poultry can be added to your diet. Discussing with your kidney doctor or our online experts can help determine how much protein you should be including in your diet.
A simple dietary tip is for dialysis patients. As for your individualized diet, you had better consult our online doctor or email to kidneycares@hotmail.com with your test reports. We will give you personalized diet according to your medical conditions.