How to Build up Protein While on Dialysis Naturally
2014-07-16 08:04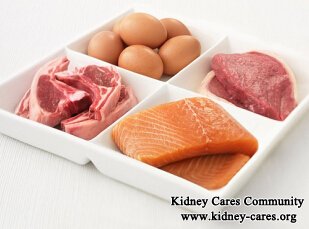 For dialysis patients, they easily suffer from protein-energy malnutrition. According to statistics, 23 %-73% hemodialysis patients have such a problem. How to build up protein while on dialysis naturally? It is really worth thinking.
Why dialysis patients often fail to get enough protein in their diet?
Because when kidney patients are on stage 4 CKD, they are recommended to have a low protein diet. When they arrive at dialysis, they still carry on such a principle. Besides, their poor appetite may also affect their intake of protein.
Why dialysis patients need to build up protein?
Protein is an important substance that the body needs to build muscle and main healthy cells, organs, and bones. Dialysis patients need more protein than the average healthy adult because they lose protein during dialysis and because the kidney disease alters the body's ability to use and process amino acids.
How much protein can dialysis patients eat?
Diet is a natural way for dialysis patients to build up protein. According to Kidney Disease Outcomes Quality Initiative (KDOQI) Nutritional Guidelines, hemodialysis patients should eat 1.2 g/kg protein per day and peritoneal dialysis patients should eat 1.3 g/kg protein per day. In order to reduce protein catabolism, dialysis patients less than 60 years old should provide 35 kcal/kg energy for the body and dialysis patients more than 60 years old should provide 30 to 35 kcal/kg energy.
When you choose protein, you should choose some high quality protein, which contains more essential amino acids and produces less metabolism waste. Meat, poultry, egg white, fish and so on all belong to such protein.
Protein-energy malnutrition is dangerous, which increases the risk of death, and decrease their physical functioning and quality of life. Therefore, it is necessary for you to attach importance to the intake of protein and it is better for you to have a discuss with a renal dietitian to make a personalized diet plan.