Why Does Dialysis Cause Reduced Urine Production
2014-07-02 03:34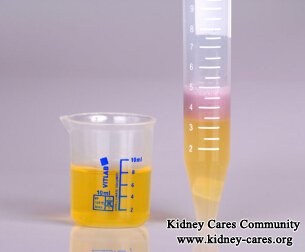 Dialysis can take over part of kidney function to filter waste and excess fluid from blood so as to prolong the life of kidney failure patients, but it can also bring many other problems to the patients, such as infection, cramp, skin itch, etc. There is also a problem for dialysis patients, that is the reduced urine production. Why does dialysis cause reduced urine production? The reasons are various.
Causes of reduced urine production for dialysis patients
The main cause of reduced urine production is decreased kidney function.
-Dialysis removes creatinine and urea from the blood in a short of time, which can make the renal cells, especially renal tubule epithelial cells swelling and necrotic so as to affect kidney function.
-The various complications of dialysis such as infection, low blood pressure and allergic reaction can cause kidney damage.
-Dialysis may make some of the blood lose so as to worsen anemia. Due to ischemia and anoxia, your kidneys impair.
-High creatine and urea nitrogen can stimulate you to discharge urine. When their concentration declines, urine production reduces.
-Dialysis increases the workload of heart so as to increase the risk of heart failure and affect the transportation of oxygen and blood to the kidneys.
-Dialysis takes away excess fluid, leading to hypovolemia. This is also a common contributor to reduced urine production.
How to prevent urine production from reducing?
-Increase dialysis frequency
-Prevent infection and heart failure
-Ease anemia
-Control weight gain so as to reduce the amount of dehydration.
There are therapies such as Micro-Chinese Medicine Osmotherapy, Blood Pollution Therapy and some others to help you repair the damaged kidneys and improve kidney function so as to reduce the dialysis frequency and even avoid dialysis. If you are interested in our therapies, please feel free to contact us by leaving a message below or sending emails to kidneycares@hotmail.com. Our doctors will contact you in 24 hours.