The Common Side Effects of Hemodialysis
2014-06-20 07:03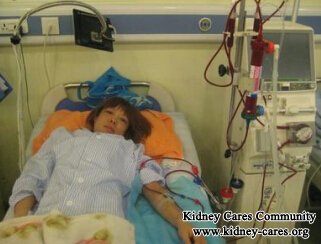 Hemodialysis is a common kidney replacement treatment for kidney failure patients to filter waste and excess fluid from the blood. But hemodialysis has many side effects. In the following, we list some of the common side effects of hemodialysis.
Low blood pressure
Many factors can contribute to low blood pressure. You should pay attention to them and take preventive measures.
1. The correlation factors of Capacity, such as low dry weight, malfunction of dialysis machine, low sodium concentration of dialysate, fast ultrafiltration, etc.
2. Vasoconstriction dysfunction, such as high temperature of dialysate, taking hypotensive drugs before dialysis, eating during the dialysis, moderately or severe anemia, autonomic nerve dysfunction, Ac-HD, etc.
3. Heart problems, such as diastolic dysfunction, arrhythmia, heart ischemia, cardiac tamponade, myocardial infarction, etc.
4. Some other factors, such as bleeding, hemolysis, air embolism and sepsis.
Skin itch
Skin itch is often associated with the accumulated waste in the boody, such as phosphorus. Besides, dry skin, allergic reactions, and high levels of parathyroid hormone can all lead to skin itch.
Muscle cramp
Muscle cramp is also common among dialysis patients. Lower blood pressure, hypovolemia, fast ultrafiltration and low sodium dialysate treatment can lead to reduced muscle perfusion so as to cause muscle cramp. Besides, blood electrolyte imbalance and acid-base imbalance are also common contributors to muscle cramp.
Nausea and vomiting
Nausea and vomiting may also occur during dialysis. It may be related with low blood pressure, dialysis disequilibrium syndrome, diabetic gastroparesis, contaminated dialysate or abnormal composition of electrolytes, such as high sodium and high calcium.
There are some other side effects, such as headache, back pain, hemolysis, fever, etc. Space limited, we can not explain them one by one. If you would like to know more detailed information, please leave a message below or send emails to kidneycares@hotmail.com.