Are Dialysis Good For Dialysis Patients
2014-05-18 00:59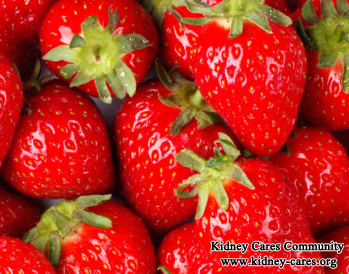 Apart from being delicious, strawberries are rich in nutrients, vitamins, minerals and antioxidants with benefits for health. And they are good for kidney dialysis patients. Below list is the strawberry benefits for dialysis patients.
1. Anti-inflammation
Inflammation is a common side effect of dialysis. Strawberries lower blood levels of C-reactive protein, a signal of inflammation in the body. This reduces the risk of suffering from inflammation of dialysis people.
2. Strawberries good for heart
People with kidney disease may have various diseases and heart disease is the most common complication. People die from this complication more quicker than the kidney disease itself. Strawberries contain the phenolic compounds which help improve blood vessel function, and decrease the tendency for blood clotting. Besides, it has been proven that flavonoids decrease inflammatory process in the body and this helps protect the heart. Moreover, the potassium in strawberries are able to regulate blood pressure too.
3. Strawberry for bone health
Kidney disease patients are prone to suffer from bone disease. Strawberry contain manganese which helps to keep bone health by way of keeping the bone structure intact. Also the potassium and vitamin K in strawberry are good for bone health.
4. Strawberry for constipation
Dialysis patients often complain their constipation. Strawberries are rich in fiber, which keeps your digestive system healthy and also alleviate the constipation system in dialysis patients.
Although strawberry has so many health benefits for dialysis patients, people who have some health problems such as high potassium and diarrhea should avoid it. It is important for dialysis people not to take any food that is not available for them.