Is Cottage Cheese A Recipe For Dialysis Patients
2014-05-01 06:36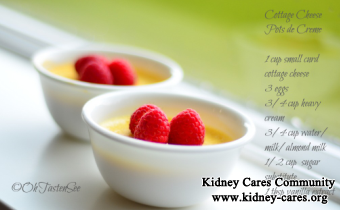 Dialysis patients have a limited diet and should eat healthily. Cottage cheese is a good source of various minerals such as calcium, magnesium, potassium, phosphorus and zinc which all play significant roles of body functions. So can cottage cheese be regarded as a recipe for dialysis patients?
The following minerals in cottage cheese can be eaten by dialysis patients.
1. Calcium
Calcium found in milk and milk products such as curb or cottage cheese, helps in building strong bones. For kidney disease patients on dialysis, they usually have low calcium level, which will lead to bone problems like bone fracture, osteoporosis. In this light, they can alleviate this condition through diet. Also this is just a few of the benefits of eating calcium-rich foods like cottage cheese.
2. Magnesium
Cottage cheese is rich in magnesium which maintains muscle and nerve functioning, and support the immune system. It also helps in maintaining blood sugar that is able to reduce the risk of kidney disease caused by diabetes.
3. Phosphorus
Phosphorus in cottage calcium plays a major role in the formation of DNA and RNA. It is an important component in forming bones together with calcium. Moreover, phosphate helps in digestion and improve your appetite. However, for dialysis patients with elevated phosphorus level in blood, they should not eat cottage cheese due to its high phosphorus level; otherwise it will cause kidneys work overtime and lead to further kidney damage.
Apart from the above healthy benefits of cottage cheese, cottage cheese is also a high levels of sodium diet. In this condition, If you have severe swelling and high blood pressure, you must quit eating cottage cheese because of its high sodium content so as not to worsen the two medical conditions.
Without knowing your medical conditions clearly and exactly, we cannot give you a definite answer for your dialysis diet. However, generally speaking, cottage cheese can be a recipe of dialysis patients. If you are afraid of eating it wrongly, you had better consult our online doctor or leave us a message to kidneycares@hotmail.com along with your lab reports, and then we can help you better.