Can Dialysis Patients Eat Cheese
2014-04-07 07:21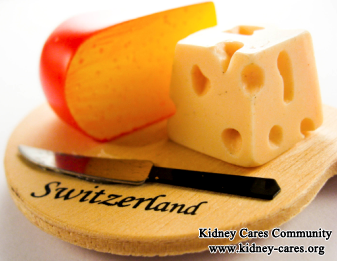 After a patient goes into kidney failure, the patient will need to start dialysis. Dialysis involves cleaning the blood outside of the body. Patients on dialysis have to be careful about foods they eat. Cheese is a kind of dairy product and favored by both adults and children. However, due to diet restriction for dialysis patients, can dialysis patients eat cheese?
In fact, there is no definite answer for what dialysis patients can eat and what they cannot eat as medical conditions vary from person to person. What we can say is to tell dialysis patients when they can eat cheese and when they cannot.
When patients on dialysis are allowed to eat cheese?
1. Calcium supplement and alleviate bone problems
Dairy products are the best food for calcium supplement and cheese contains highest calcium in dairy. Kidneys play an important role in balancing electrolytes like calcium, phosphorus and potassium, and so on. However, once kidneys are injured, they lose the ability to balance these minerals, thus causing low calcium and high phosphorus. In this case, with low calcium level, kidney failure patients tend to have bone problems such as bone pain and bone fracture. In this regarded, dialysis patients with low calcium in their blood should eat some high calcium foods. Cheese can be added to their diet.
2. Benefits on cardiovascular diseases
Cheese contains low cholesterol level, which is beneficial for cardiovascular diseases. Reducing the risk for cardiovascular diseases is able to delay or stop the progression of kidney failure.
3. Boost immunity
Cheese is able to boost your immunity to fight against diseases. Thus, eating cheese is also important for dialysis patients' overall healthy condition.
When dialysis patients cannot eat cheese?
Limit your intake of cheese, milk and yogurt as well as other dairy products per day. Most dairy foods are very high in phosphorus. For dialysis patients with high phosphorus level, they should not eat or eat less cheese and dairy products due to their high phosphorus level in blood.
In addition, if dialysis patients have heart diseases or at risk for heart disease, cheese may not be good choices for them. This is because cheese are high fat foods.
From the above, we can see whether dialysis patients can eat cheese or not should depend on their own medical conditions. Therefore, if you happen to be a dialysis patient and want to know if cheese is good for, you can leave your message to kidneycares@hotmail.com or send your medical reports to this mail box. And our renal experts will analyze your conditions and then give you suggestions.