Can Patients On Dialysis Eat Sesame Seeds
2014-04-05 01:56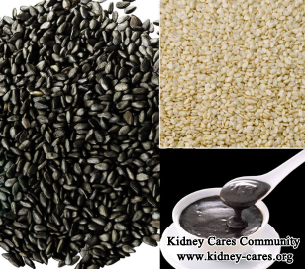 Sesame seeds can be divided into two types. One is white sesame seeds and the other is black sesame seeds. Black sesame seeds are mainly used to treat diseases. Sesame seeds can not only be consumes but also can be regarded as oil plant. Also sesame seeds contain many nutrients. For dialysis patients, they usually have a strict diet, so one of our dialysis patients asks if he can eat sesame seeds. And the following we will tell you the answer.
Sesame seeds can be eaten by almost every person. Here we will analyze the healthy benefits to dialysis patients in a detailed way.
1. Sesame seeds are beneficial for high blood pressure patients.
For dialysis patients, high blood pressure is a common complications. The research has shown that sesame seeds are able to control high blood pressure. In this way, high blood pressure can be alleviated to some extent and make dialysis patients feel better.
2. Sesame seeds can alleviate bone problems in kidney disease patients.
Sesame seeds are high calcium. Kidney disease patients usually have high phosphorus level in blood. High phosphorus level will inhibit the absorption of calcium, thus causing low calcium. In this case, kidney disease patients often have bone problems like bone pain and bone fracture. When the kidney disease progress into severe stage, dialysis is offered, which will also remove some calcium from the blood and then worsen bone problems. Thereby, dialysis patients should consume some high calcium foods. And sesame seed is this kind of food. In this light, dialysis patients can eat sesame seeds.
3. Diabetes patients on dialysis can consume sesame seeds.
Diabetes is a major factor to kidney disease. Thereby, diabetes patients should well control blood sugar level to reduce the risk for kidney disease. Professional experts make experiments on people and the results have shown that sesame seeds help reduce blood sugar. In this way, dialysis patients with diabetes are allowed to eat sesame seeds.
4. Sesame seeds can also promote blood circulation.
Due to kidney function insufficience, deficient oxygen and blood will be carried to kidneys, which leads to renal ischemia and hypoxia state. Sesame seeds helps promote blood circulation and relieve renal ischemia state to some extent.
From the above, we can see dialysis patients can eat sesame seeds. However, no diet suits for every dialysis patients due to different illness conditions. In this condition, to guarantee your safe, before eating sesame seeds, you had better consult our expert online or leave us a message to kidneycares@hotmail.com. And we will reply you as soon as possible.